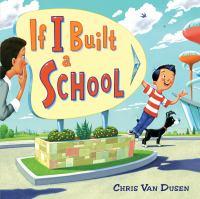 School's in session! Instead of asking your child "How was school?" at the end of the day, consider reading a picture book related to school instead. Reading books aloud is a natural way to talk about a variety of topics without it feeling forced.
Here are a few of our favorite discussion-starting, school-focused picture books:
If I Built a School by Chris Van Dusen: "Imaginative Jack describes the kind of school he would build--one full of animals, with tubes to transport students directly to their classrooms, and library books that come alive." Ask your child what kinds of things they would like to see if they could build a school. What do they think of Jack's suggestions?
Wemberly Worried by Kevin Henkes follows a mouse who is worried about going to school. A great book to broach any anxiety your child might be feeling about school.
My Teacher Is a Monster! by Peter Brown. Teacher troubles? This might put it in perspective, or at least allow for some giggles while you read this book about reconsidering what a teacher is really like.
My Name Is Yoon by Helen Recorvits (illustrated by Gabi Swiatkowksa). An excellent way to build empathy for other students who might not be comfortable in school.