Kids Read Curious World: Animals!
Programs for Babies & Young Children
Build A Reader Storytimes
We don't just have fun at our storytimes... we help get your child ready to read! Led by professional library staff trained in supporting children's literacy and learning development, our Build A Reader storytimes follow the Every Child Ready to Read initiative established by the Public Library Association.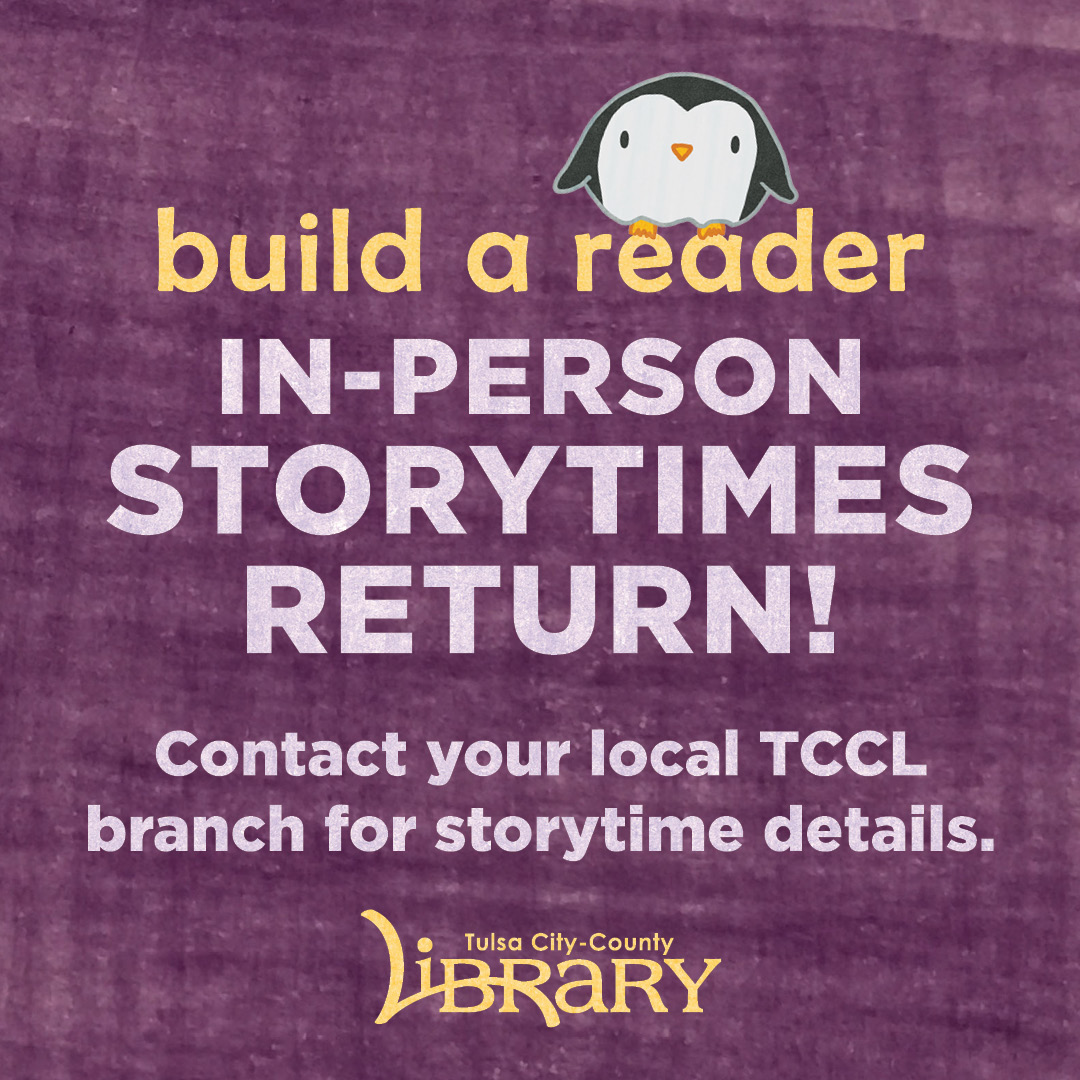 Build A Reader Stay & Plays
Playing is a cornerstone of literacy development. That's why after many of our storytimes, libraries offer "Stay & Play" sessions where librarians break out developmentally appropriate toys for families to play with together. We'll also show you some ideas of how to play with those toys and re-create the play experience at home.
Build A Reader Centers
We are building readers at every library location in Tulsa and Tulsa County! But four libraries – Hardesty Regional Library, Herman and Kate Kaiser Library, Martin Regional Library, and Owasso Library – offer even more specialized programming, parenting collections, and learning resources for families based on the "playing is learning" concept.
Build A Reader App
When you can't make it to the library for storytime, you can still get storytime…in your pocket! Search for "Tulsa City-County Library" in your app store on your phone or electronic device and download the FREE Build A Reader app. You'll find videos demonstrating songs and fingerplays as well as great book recommendations.
How to Find Great Books for Your Baby & Young Child
Beanstack is an online book recommendation service the library subscribes to so that you can find books for the entire family. Go to https://tulsalibrary.beanstack.org, create an account, and create a reader profile for your child. Beanstack will suggest titles based on your child's interests and age!
Another great resource? Children's librarians and library staff! Ask your library location's children's staff person for recommendations and suggestions.
Programs for School-Aged Children
Other Resources for Parents & Educators
Kids Blog
Our goal with this weekly blog is to support parents, caregivers, and educators as they usher children into the world of literacy. We want to help you develop children into curious readers, motivated learners, and fully literate citizens.
Check back every week for articles with tips about how to support your children's literacy and suggestions of great books to make reading both fun and empowering.
Educational Cards
The Tulsa City-County Library collection is a perfect supplement to any classroom curriculum. An Educational Institution Card allows teachers to check out books for classroom use for 42 days, instead of the usual 14. Teachers/child care leaders must show verification of employment to be issued an Educational Institution card.
To get an Educational Institution Card, ask at any Tulsa City-County Library location for an application and complete it with employment verification. Call the library at 549-7323 with any questions.
Homeschooling and Schooling from Home | Databases & Online Tools and More!