What is Books to Treasure?
The Tulsa City-County Library treasures books... but we treasure children more! That is the idea behind the Books To Treasure program, which has been around since 2003. The goal is to celebrate the beauty and power of children's literature and inspire a love of reading in children. Sponsored by the Anne and Henry Zarrow Foundation since its inception, Books To Treasure has grown into a Tulsa tradition for all second-grade students in Tulsa County. These youngsters receive a free copy of a treasured illustrator's book, the chance to get their very own library card, and an opportunity to see the illustrator in person and get their books signed!
How Do 2nd Graders Get a Library Card for Books To Treasure 2023?
Second grade teachers in Tulsa and Tulsa County schools will have Books To Treasure library card applications and Tulsa City-County Library staff will coordinate with them to get library cards to second graders at schools. This will be done in September and October of 2023.
However, starting in September, parents and guardians of 2nd graders may go to any library branch location (child must be with them) to get a special Books To Treasure library card.
NOTE: Only 2nd graders who are in Tulsa or Tulsa County are eligible for a library card. 
How Does it Work, and When?
The Books To Treasure "season" is in the fall. Children's librarians and library staff typically visit schools in September and October to talk about the illustrator and talk about the importance of reading and the library. All second-grade children in Tulsa County receive a free copy of the featured book and the opportunity to get a special library card with artwork from the book.
In 2022, Tulsa County second-grade students received nearly 12,000 free books and over 3,000 special library cards as part of the Books To Treasure program.
Ben Clanton, the 2023 Books To Treasure illustrator, will give a public presentation and book signing on Friday, November 10 at 6 p.m. at the Hardesty Regional Library. This is an amazing opportunity for children to witness the creativity and passion that goes into illustrating a book, and to meet a "real life" illustrator.
Who Makes it Possible?
The Books to Treasure program is sponsored annually by the Anne and Henry Zarrow Foundation. With their support, the program began in 2003 and has grown into a Tulsa County tradition for second grade students.
Sneak Peek Videos from Ben Clanton!
Wow, an original Ben Clanton Narwhal & Jelly story about his visit to Tulsa!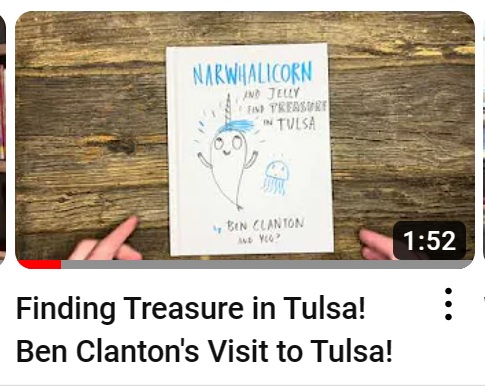 And what's this? The original story PLUS a sneak peek at his art studio and process?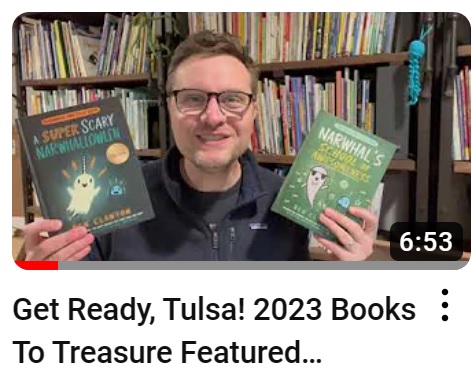 Content
Books to Treasure Featured Illustrators