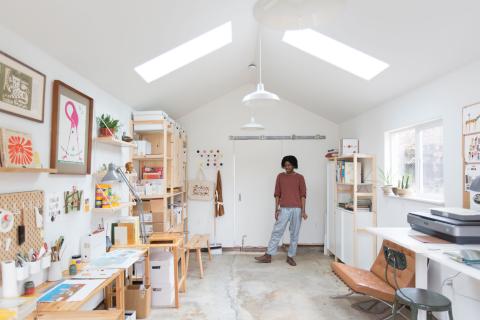 Tulsa City-County Library treasures books, but treasures children even more. TCCL invites children of all ages to celebrate the beauty and power of children's literature at the 17th anniversary Books to Treasure program, featuring illustrator Christian Robinson, on Friday, Nov. 15 at 7 p.m. at Hardesty Regional Library, 8316 E. 93rd St., in Connor's Cove.
   "This is an amazing opportunity for children to witness the creativity and passion that goes into illustrating a book, and to meet a real-life illustrator," said Laura Raphael, children's services coordinator for TCCL.
   Sponsored by the Anne and Henry Zarrow Foundation since 2003, the free Books to Treasure program has grown into a Tulsa tradition for all second-grade students in Tulsa County. Through the program, each second grader receives a free copy of the featured illustrator's book, plus the chance to get a custom library card with an illustration from the book and an opportunity to see the illustrator in person. This year's featured book is "Gaston," written by Kelly DiPucchio and illustrated by Robinson.
   Other works illustrated by Robinson include the No. 1 New York Times bestseller "Last Stop on Market Street" by Matt de la Peña, which was awarded a Caldecott Honor, a Coretta Scott King Illustrator Honor and the Newbery Medal; "School's First Day of School" by Adam Rex; "Leo: A Ghost Story" by Mac Barnett; "Antoinette" by DiPucchio; "The Smallest Girl in the Smallest Grade" by Justin Roberts; "Little Penguins" by Cynthia Rylant; and many others. Search the library's catalog at www.tulsalibrary.org for additional titles. Copies of Robinson's books will be available for purchasing and autographing at the Books to Treasure event.
   Born in Hollywood, Calif., Robinson grew up in a small one-bedroom apartment with his brother, two cousins, aunt and grandmother. Drawing became a way to make space for himself and to create the kind of world he wanted to see. He studied animation at the California Institute of the Arts and would later work with the Sesame Workshop and Pixar Animation Studios before becoming an illustrator of books for children.
   Visit www.tulsalibrary.org/kids/books-to-treasure or call 918-549-7323 for more information about Books to Treasure.
Photo Credit: Michelle Drewes