Connecting Older Adults to Health Information
Adopting healthy habits and behaviors, staying involved in your community, using preventive services, managing health conditions, and understanding all your medications can contribute to a productive and meaningful life.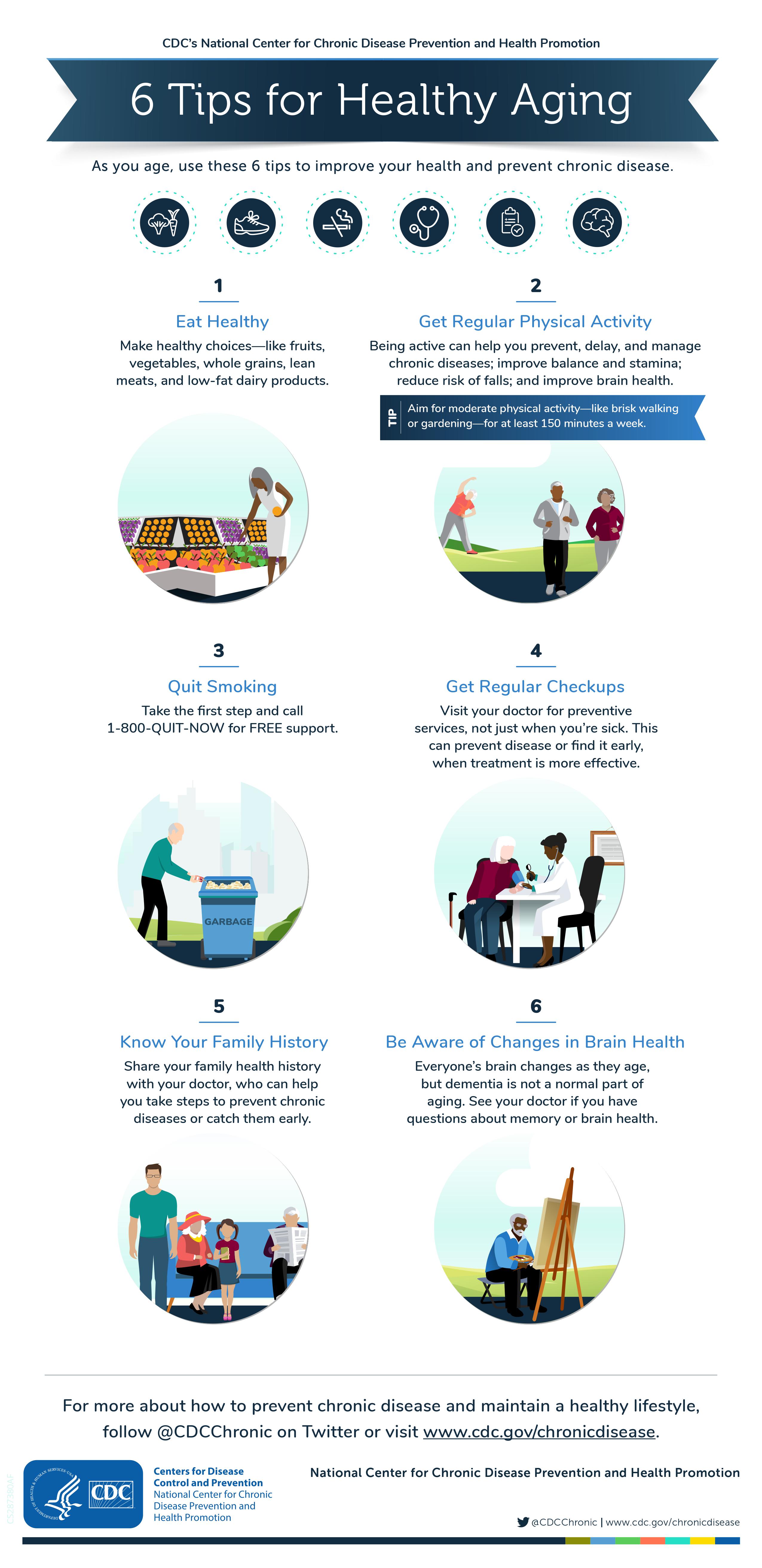 Content
Resources for Health and Nutrition for Seniors
Local Resources and Organizations
The mission of the INCOG Area Agency on Aging (IAAA) is to improve quality of life by promoting independence, dignity, and health for senior citizens through advocacy, education, and support of community-based services.
 LIFE provides solutions that allow older adults to maintain their independence and live their lives to the fullest.
RSVP serves as a one-stop clearinghouse to connect volunteers, age 55 and over, with meaningful community service.  There is an RSVP match for everyone who wants to remain active in their local community. 
​​​​The Aging Services Division (ASD) helps develop systems that support independence and help protect the quality of life for older persons as well as promotes citizen involvement in planning and delivering services.
Web Resources
AARP is a nonprofit, nonpartisan organization that empowers people to choose how they live as they age.
The Federal Government portal to information on Alzheimer's disease and related dementias care, research, and support.
Get motivated to keep moving! Challenge yourself to meet your goals and overcome barriers to success.
Studies show that a good diet in your later years reduces your risk of osteoporosis, high blood pressure, heart diseases and certain cancers.
The Alzheimer's Disease and Healthy Aging Program at the Centers for Disease Control (CDC) hosts the Healthy Brain Initiative (HBI). HBI provides data, information, and education to promote brain health, including information on Alzheimer's disease and other dementias.
The Health in Aging Foundation is a national non-profit established in 1999 by the American Geriatrics Society to bring the knowledge and expertise of geriatrics healthcare professionals to us all as we age.
The National Association of Area Agencies on Aging's primary mission is to build the capacity of our members so they can help older adults and people with disabilities live with dignity and choices in their homes and communities for as long as possible.  
Improving the health and economic security of 10 million older adults by 2020
Transitions
Independent and Assisted Living
Nationwide directory of over 36,400 facilities.
Northeast Oklahoma's most comprehensive senior living guide.
Caring.com is a user-sourced senior resource directory.
Choosing Nursing Homes, Home Health, and Hospice Care
The primary purpose of this tool is to provide detailed information about the past performance of every Medicare and Medicaid certified nursing home in the country.
At some point, support from family, friends, and local programs may not be enough. People who require help full-time might move to a residential facility that provides many or all of the long-term care services they need.
The move to a nursing home can be difficult for older adults and their family members. If you're considering moving an older relative to a nursing home, Healthinaging.org experts offer the following advice for ensuring the best possible care.
The National Hospice and Palliative Care Organization (NHPCO) is the largest nonprofit membership organization representing hospice and palliative care programs and professionals in the United States. 
Find hospices that serve your area and compare them based on the quality of care they provide. Hospice agencies most often provide services where you live, whether it's at home, an assisted living facility, or a nursing home.
End of Life Planning
Making treatment decisions for yourself at the end of life often requires planning ahead.  The legal tools are:
Advance Directive for Health Care;

Durable Power of Attorney for Health Care;

Do-Not-Resuscitate Consent; and

Guardianship of the Person.
Many of these forms can be found on our Gale Legal Forms database.
An Advance Directive for Health Care is a written legal document which allows you to instruct your attending physician whether or not you wish to be given life-sustaining treatments and artificially administered nutrition (food) and hydration (water) and to give other medical directions that impact the end of life.
OKLaw is a joint project with Legal Aid Services of Oklahoma, Inc., the Legal Services Corporation and Pro Bono Net.  Our goal is to provide the public with easy internet access to basic legal information and legal resources in Oklahoma.