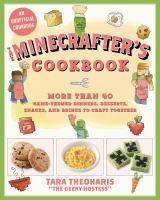 Does your child love Minecraft? Yeah, mine did too when they were younger. They probably know all about food and potions and buffs in-game, while you are more likely concerned with food IRL (in real life). 
Let me tell you about The Minecrafter's Cookbook by Tara Theoharis. This book makes a perfect bridge between the two and includes more than 40 recipes based on items in the game. Some of the recipe names sound really tasty and some sound really gross, but the recipes themselves sound yummy. Here are some examples: Gold Block Sandwiches (grilled cheese sandwiches) and Slime Blocks (gelatin blocks).
The Minecrafter's Cookbook offers a nice selection of snacks, main dishes, desserts and drinks. While it doesn't go into any actual cooking training, it does emphasize that cooking is part science and encourages experiments in ingredient swapping.
The layout of the recipe tells the cook at a glance what tools and ingredients you will need to make it. It provides a nice photo of the end result and gives a cooking tip or a gaming tip, sometimes both! This is a fun books for helping adults understand some of the nuances of a game their child loves as well as providing a fun theme for a party or family game night, where everyone can pitch in to make some of these recipes.
Recipes in this book are straightforward that most beginner cooks can follow. It also includes a few recipes that present a little more of a cooking challenge and require adult supervision. I highly recommend this fun cookbook for families and gamers.
- Melody Palmer, Youth Librarian, South Broken Arrow Library