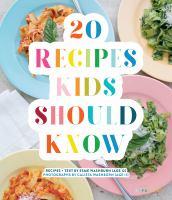 What's for supper?
Sometimes this question strikes dread in me, even as an experienced home cook. Often, in those situations, I stand in front of the refrigerator with the doors open just thinking, looking for inspiration. What can I make with x, y, or z? 
Having several recipes in the back of my mind helps with this task immensely. This week's book, 20 Recipes Kids Should Know by sisters Esme and Calista Washburn (who, by the way, are 12 and 17 years old respectively) gives kids (and other beginner cooks) some recipes to have ready in just such a cooking emergency.
20 Recipes Kids Should Know offers basic instruction in cooking terms and techniques, offers some safety tips, and lists things to do before you begin cooking, like put your hair up, rolling up your sleeves and reading the recipe. It offers cooking inspiration in the following categories: Breakfast, Lunch, Appetizers, Sides, Desserts, and More. Some that sound particularly tasty (and easy) include Crispy Roasted Vegetables, Crispiest Breaded Chicken, and Chewy Chocolate Chip Cookies. The authors offers substitution possibility on a number of recipes. They are also not afraid to take on what many would think too difficult for a kid's cookbook: making your own pasta and bread. They break it down step by step and include photos of each step to assist in visualizing their instructions.
While this is categorized as a kid's book (technically, Juvenile Nonfiction), it has recipes for every age and skill level. I highly recommend.
- Melody Palmer, Youth Librarian, South Broken Arrow Library