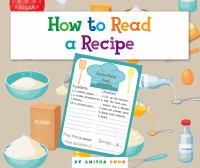 Some of my favorite memories from when my children were little are kitchen memories. Working together in the kitchen to prepare a meal for the family is a great opportunity to talk with your child about what's going on with them, their friends, school projects and more.
When you cook with your child, you may not realize it, but you are doing science experiments and often working math word problems. (Do you remember hating them in school? Me too, but it turns out that's actually how you use math in the real world!)
Cooking is a great opportunity for you to teach your child some science and math. Depending on your child's age, you can talk about fractions, weight of ingredients, as well as actual cooking basics like measuring (scooping vs. sifting, measuring wet vs. dry ingredients), operating kitchen tools and more.
Over the next few weeks, I'll share some cookbooks to try with your kids that cover a wide variety of skill levels and interests.
This week, I'd like to tell you about "How To Read a Recipe" by Anitra Budd. This is the perfect place to start for an absolute beginner cook, whether adult or child. This book informs the reader how to read a recipe, what the abbreviations mean, how to measure, what the recipe title means, important basics like clean hands, tools, and following the directions in order. This is a helpful book for all ages.
- Melody Palmer, Youth Librarian, South Broken Arrow Library