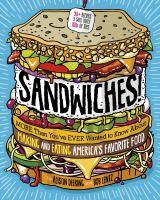 "Everything tastes better squished between 2 pieces of break" is often heard at my house, as is "Sandwiches always taste better when someone else makes them!"
Sandwiches! by Alison Deering offers more than 50 recipes at 5 different skill levels and hundreds of tips for making your perfect sandwich. It also has several "We Dare You" pages filled with ideas to take your sandwich to the next level, like cheese puffs or sliced pickles on a peanut butter sandwich. While those combinations don't appeal to me, some adventurous gastronomes might enjoy the challenge.
Sandwiches! walks the reader through recipes that only need 1) a plate and a knife, 2) recipes that need a toaster and a microwave, 3) an oven/broiler, 4) a stove, skillet, or panini press, and 5) the top of the sandwich-making food chain: the Big Time, which includes extra cooking, recipes and prep work.
The recipes range from a simple PB&J to the Vietnamese favorite Banh Mi and almost every other sandwich you can conceive. It includes recipes for sweet and savory sandwiches, offers creamy and crunchy textures for variety, and cold and hot sandwich options. 
If you like sandwiches, this is a must-read homage to the humble and not so humble sandwich. Highly recommended.
- Melody Palmer, Youth Librarian, South Broken Arrow Library