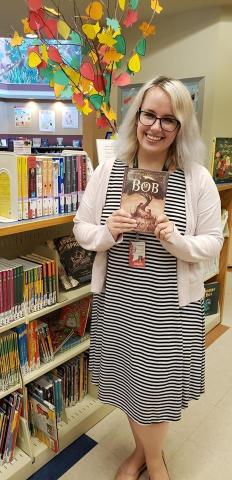 If you've followed the Owasso Library's social media or stepped within 5 feet of our Sequoyah display, you probably know how much I loved "Bob".
Wendy Mass and Rebecca Stead wrote one of my favorite books, across adult and children's books, when they sat down and created "Bob", a left-behind imaginary friend waiting 5 years for Livy to return. Bob is hurt when he realizes she doesn't remember their adventures from before. No matter! There are plenty of future adventures to be had. Can they get Bob home...wherever that is? Is there a way to save everyone's homes in this terrible drought?
"Bob" is perfectly magical and mysterious. Fair warning: the first chapter may feel slow, but the reminder of the book zips right along, and when you hit the end, you will not feel like you read 200 pages.
- Melodie Pennington, Children's Library Associate, Owasso Library