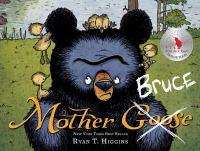 Who doesn't love to laugh? Not kids - especially in the books they read!
According to several recent research reports, elementary-aged children identify humor as one of their top interests in reading.
Here are a few more laugh-worthy books to share together:
I Don't Want to Be a Frog by Dev Petty - We've all wanted to be or have something we're not. (What I want to be and have: a great dancer, with curly hair. Suffice it to say, neither are true.) In this comical tale, a frog starts out decrying his frog status, only to discover that maybe it's not so bad after all.
Mother Bruce by Ryan T. Higgins - Mother Goose? No, Mother BRUCE! A grumpy bear unexpectedly becomes the parent to a trio of ducklings. Hilarity ensues! If your kids like this one, be sure to share the follow-ups Hotel Bruce and Santa Bruce.
The Princess and the Pony by Kate Beaton - What good is a cute pony when what you want is a battle horse? The princess in this tale finds out that she might have been given the best pony of all. Delightful drawings by the graphic novelist who brought us the (adult) Hark! A Vagrant! series.