Located within the downtown Central Library, the Renee F. Neuwald Trust Maker Space is a hands-on, creator-focused working space for the people of Tulsa County. The Maker Space provides our visitors a place to work on their next great idea, develop a new skill, or learn a new hobby in a supportive environment.
Want to learn how to play the guitar, create a music track with Logic Pro, or learn 3-D modeling? That and many more can be discovered through the library's online learning resources. Check out both Lynda.com and ArtistWorks and sign in with your card number and password to get started!
Content
Equipment & Software Overview
3D Printing
You can submit 3D objects directly to the library to create with one of our 3D printers! Please see our 3D Printing Resource Guide for more information on getting started then fill out an Online Request to Print form. Requests will be printed by library staff in the order in which they are received.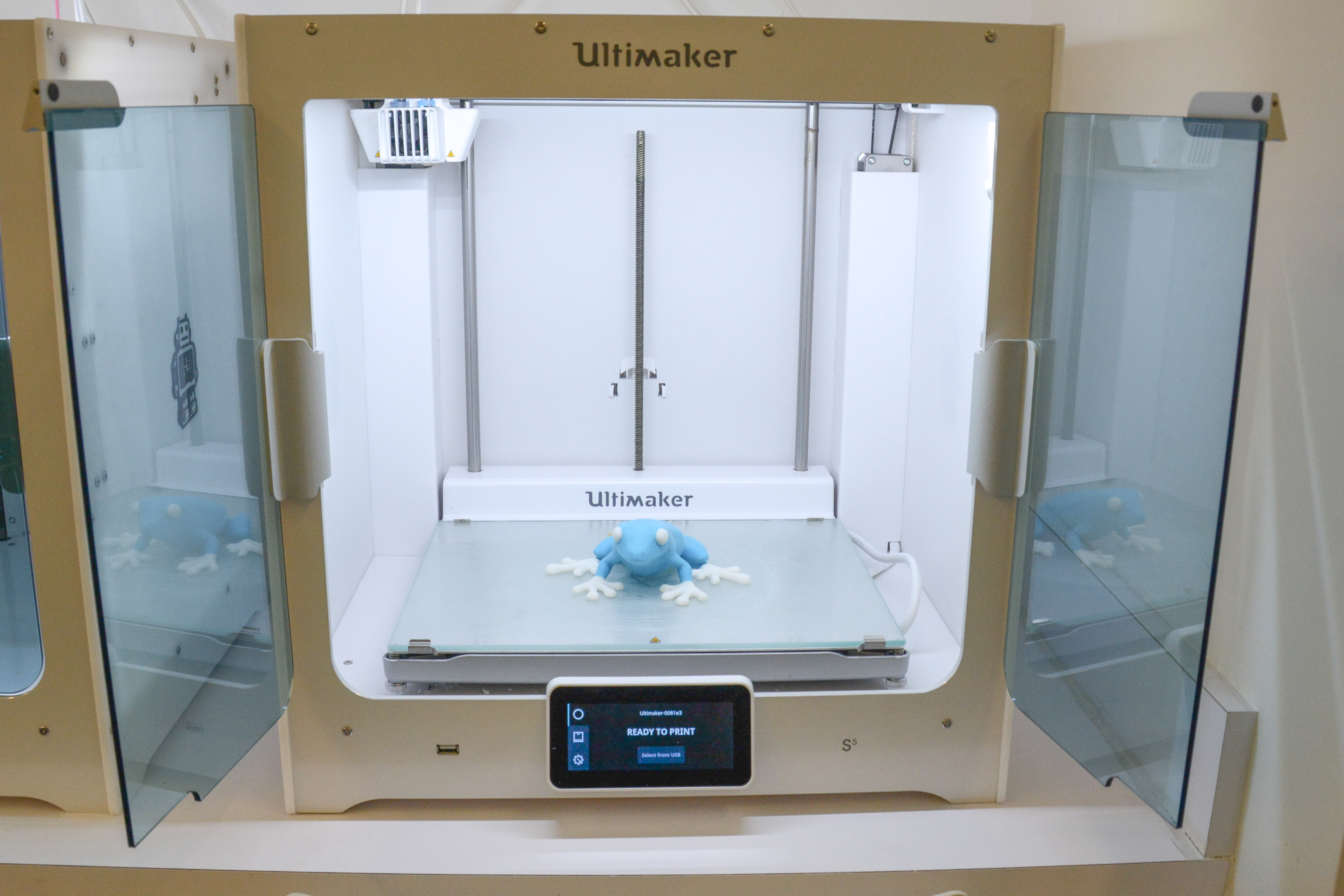 Ultimaker S5 Dual Extrusion 3D Printer
Build volume: 330 x 240 x 300 mm (13 x 9.4 x 11.8 inches)
Filament diameter: 2.85 mm
Nozzle diameter: 0.4 mm
Print speed: 50-200 mm/s
USB connectivity
Filament: $0.10 per gram, or customers may bring their own
Software: Cura (slicer), most CAD software accepted. The Maker Space currently only uses cloud-based design programs at this time, such as TinkerCAD
File type: STL
Laser Engraving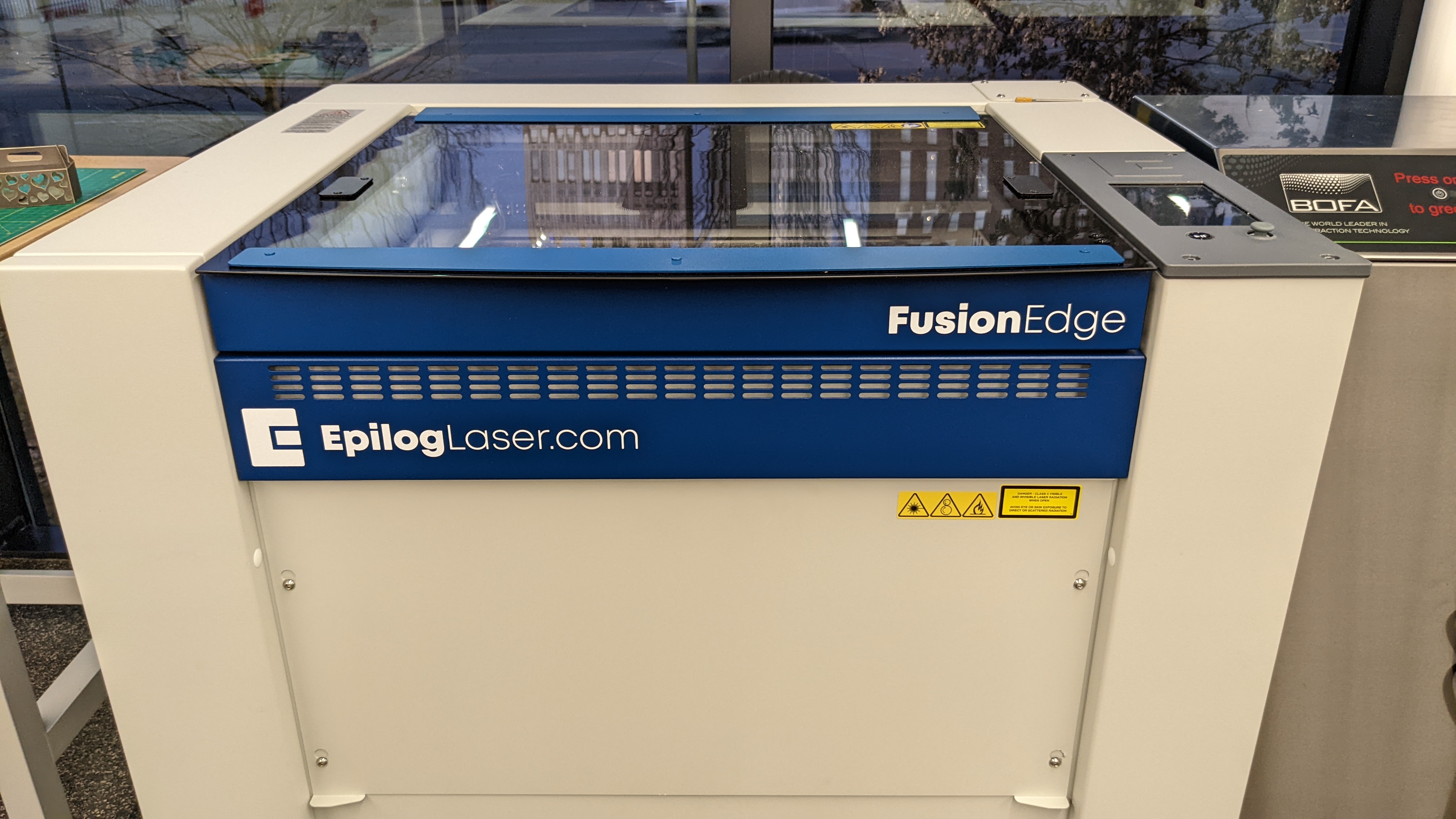 Epilog 50W Fusion Edge 24
Epilog Fusion Edge 24 user manual
24" x 24" x 10" work area
CO2 laser tube
IRIS™ Cameras: 2 overhead
Raster and vector
Enclosed ventilation system
Cuts through 3/8" material thickness
Software used: Corel Draw Epilog Job Manager
Since materials that can be cut or engraved can be extensive, these will be covered during orientation.
CNC Router/Milling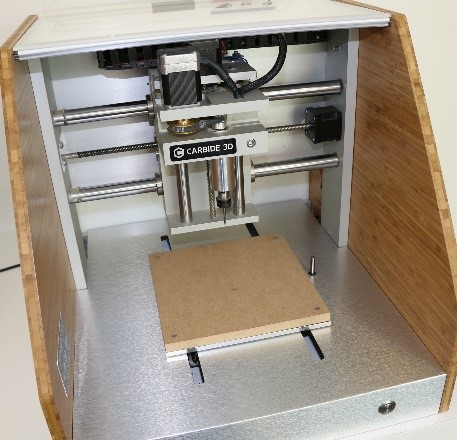 Carbide 3D Nomad Pro 883 Desktop CNC Mill
Work area: 8" x 8" x 3"
Cutting, engraving and inlays
Spindle speed: up to 10,000 RPM
Spindle mount: ER-11 Collet 
Mounting: MDF board, vise, flip jig
Files: jpeg, stl, svg, dxf
Materials: wood, plastics, metals
Vinyl Cutter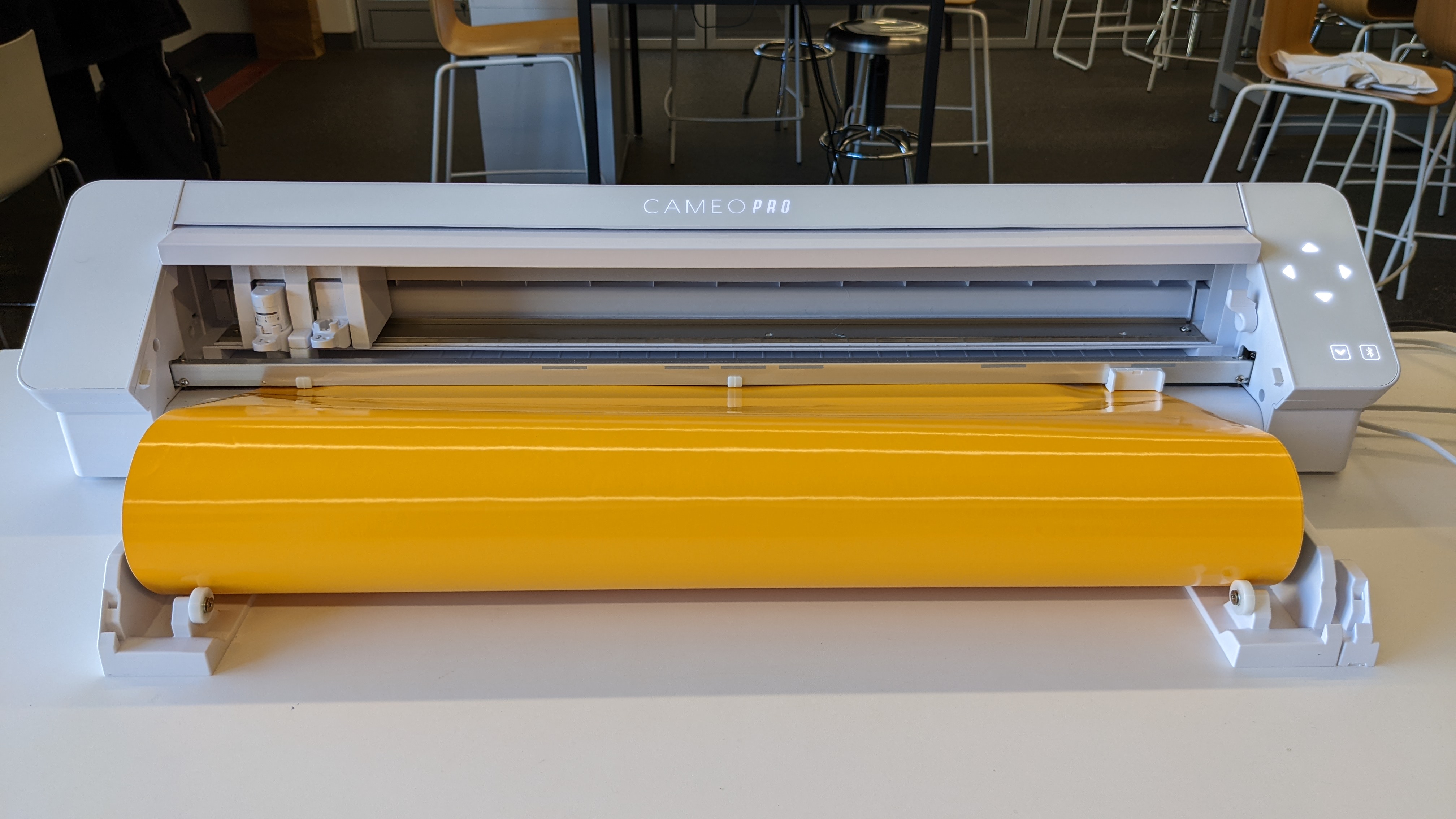 Silhouette Cameo Pro 4
Cameo Pro user manual
Maximum cut area: 24 in. x 24 in. with a cutting mat, 24 in. x 10 ft. with lined media (when using the built-in roll feeder)
Matless cutting options available depending on material type. Materials with liners or backing, such as vinyl, heat transfer, and sticker sheets can be fed directly into the Cameo 4 without a cutting mat. The Cameo 4 also offers a special "Pop-out" cutting feature for paper and cardstock materials where a cutting mat is not required.
Materials accepted: standard vinyl, heat transfer, paper, craft paper, card stock, paint mask
Maximum Media Thickness: 3 mm
We currently only carry standard vinyl, $0.50 per sq ft
Software: Silhouette Studio
Screen Printing

Here at Central's Maker Space, we use a stencil method of screen printing, using our vinyl cutter to create the stencils to make our design to put on bags, T-shirts or even remnant cloth. Also included in the process:
Squeegees
Screen-printing screens
Water-based ink (After first three shirts or no ink is available, customers are required to provide own ink.)
Screen press
Heat gun
Sewing Machines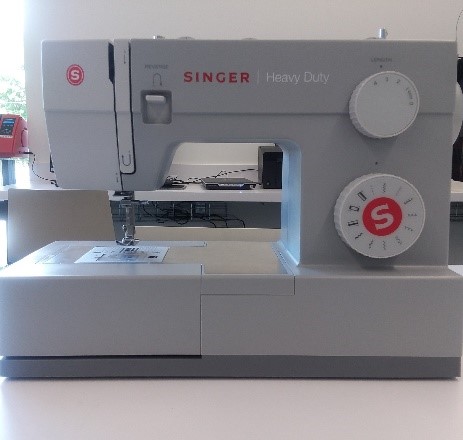 Singer 4452 Heavy Duty Sewing Machine
32 built-in stitches (6 Basic Stitches, 7 Stretch Stitches, 18 Decorative Stitches, 1 Buttonhole)
Auto needle threader
Top drop-in bobbin
Foot pedal
Auto reverse
Adjustable stitch length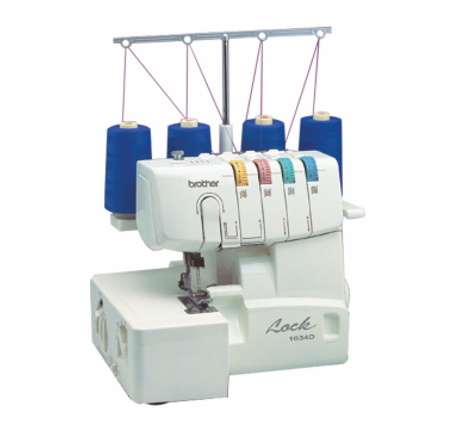 Brother 1034D 3/4 Thread Serger
Color-coded upper thread guides  
Stitch length 0.8 mm to 4.0 mm
Differential feed ratio of 0.7 to 2.0
Stitch width 3.0 mm to 7.0 mm
Up to 1,300 stitches per minute
Soldering Stations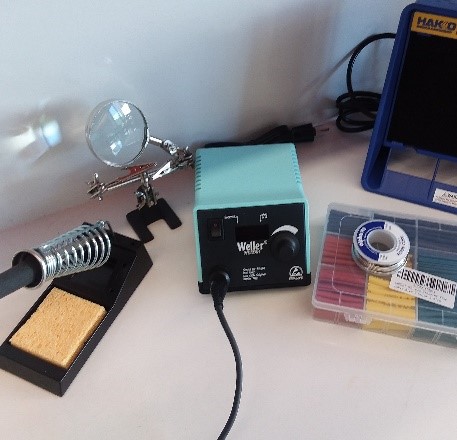 Weller WESD51 Soldering Station
Includes WES series power unit, PES51 soldering pencil, PH50 stand, sponge and PW50 probe
Tip temperature offset capability
Digital display, tip temperature control range: 350°F to 850°F (177°C to 454°C)
Allows user to reset station temperature to match in tip sizes & styles
Iron is fitted with a nonburnable silicon rubber cord for safety
UL and cUL listed
ESD safe to protect sensitive components
Allows degrees F to C conversion
General Tools
We also carry a variety of general hand tools and other supplies you can utilize while using the space. We're always on the lookout for new and different ways of creating projects, so if you don't see something that you're looking for, let us know and we'll look into it.         
Mallets & hammers
Screwdrivers
Pliers & wrenches
Power drill
Rotary tool
Heat guns
Knitting needles & crochet hooks
Drawing pencils & artists' pens 
Rulers, measuring tape & T-squares
And much more!
Audio Recording Studio
Audio Lab

Our Audio Lab is a dedicated room located within the Maker Space for customers with any audio recording needs. From recording voice-overs and narration, to music production and mixing, we carry some of the most popular and modern recording equipment and software. All that's needed to get started is scheduling a brief orientation with staff by contacting the Maker Space. Due to the limited size of the Audio Lab, the orientation provided is the only service that is conducted individually. Below is a brief listing of some of the software and equipment that the lab provides. For more specific information, including tutorials and general operational use, click on the title of the product below. 
Recording Software:
Equipment:
Musical Instruments:
Frequently Asked Questions
What is a Maker Space?
A "maker space" is generally used to describe any place where those interested in crafting, design, technology and any other creative pursuits can work on their projects, either by themselves or as a group. As public libraries always have been institutions of learning at their core, we felt extending that philosophy through additional opportunities was important, and the Maker Space is one of the many ways that we can continue to do that.
What can I do in the Maker Space?
That largely depends on where your interests lie and what you're trying to accomplish. You may have that next great idea and need a place to plan out and prototype your invention using one of our 3D printers or laser engraver. Maybe you're in theater and want to make your own costume using our sewing machines. Or you could just want to learn a new hobby that you've thought about but never really pursued for various reasons. In the end, it's up to each person to decide what he/she wants to create in our Maker Space, and we want to give our community those opportunities.
Is there a cost to use the Maker Space?
There is no cost for the space itself or the use of equipment, though the majority of materials must be provided by our customers with few exceptions. We can, at the very least, point you in the right direction where you can obtain what you need either through online vendors or local businesses. You may have something lying around the house or stuffed in the back of your closet that you could put to use!
How do I get an appointment to use the equipment?
Email us at MakerSpace@tulsalibrary.org or call 918-549-7442. Just let us know how you would like to use the space and we'll set you up with an orientation appointment. Staff will go over general rules, cover our policy in terms of proper use, and have you sign a Waiver of Liability form. After your orientation you can "Check Out" appointment time with equipment using your library card. Please take into consideration that those who schedule an appointment always will take precedence over walk-ins.
Are there any time limits in the Maker Space?
Generally, you're granted at least two hours of work time if you make an appointment in advance. This allows all users the opportunity to gain access; though if no one else is scheduled for the equipment you're using, you may request to be allowed additional time. This is solely left to the discretion of Maker Space staff.
Are there limits on what I can make?
We don't want to limit your creativity, but there are a few guidelines you must follow when using the space.
No guns or weapons are allowed in library buildings, and guns, weapons, and their components may not be created in library maker spaces.
Users will respect any and all copyrighted, trademarked, or patented materials while working within the Maker Space.
Users will not create anything obscene or otherwise inappropriate for a public library environment. 
Users will not create anything that is unsafe, harmful, or poses a direct or immediate threat to the safety and well-being of others. 
Users will not create anything that is prohibited by local, state or federal law.
I have an idea that I'd like to try out but I don't know where to start. Can someone teach me?
As the Maker Space is a self-directed workspace, staff will endeavor to provide you with all the resources that the library has at its disposal to assist you with your work, including basic instructions in some of the resources we offer. That being said, it is the responsibility of all our customers to learn how to use said resources and develop their own project ideas, as staff cannot provide one-to-one training. 
Learning & Resources
Files & Ideas
Looking for ideas and inspiration or are not sure what can be done with the equipment? These sites can show you some of the possible projects you can start after completing your orientation! Depending on the material you are using, any SVG file can be used on the Epilog laser, CNC mill, or Silhouette Cameo.
Laser Engraving
3D Printing
Some of these sites will contain free and paid files.
CNC Milling/Routing
*If Inventables doesn't have the SVG files visible, click on the blue "Open in Easel" button on the right side of the page. This will open with their online software which you can then click on Project at the top, then Download project (ZIP). Once you extract the files, you should be able to view all the files required for the project.
Vinyl Cutter
Learning
A list of resources for learning about 3D printing and 3D modeling, as well as some awesome inspiration!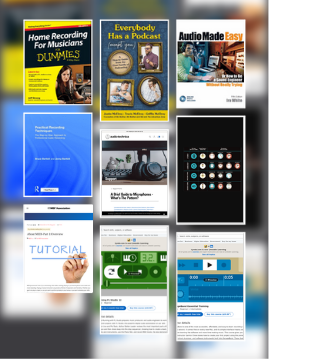 Some basic info on how to get started with the fun and powerful software and hardware available in the Maker Space Audio Lab! You can access online learning options like LinkedIn Learning for free using your Library credentials!
Some guides and resources for using our CNC Mill.

 
A list of resources for getting started with the Maker Space's Epilog Laser Engraver!
 
Some helpful resources to getting started with screen printing at TCCL Central Maker Space!
 
A handy guide on getting started with our sewing machines, along with project inspirations!