Content
Historical Newspapers
Newspapers On Microfilm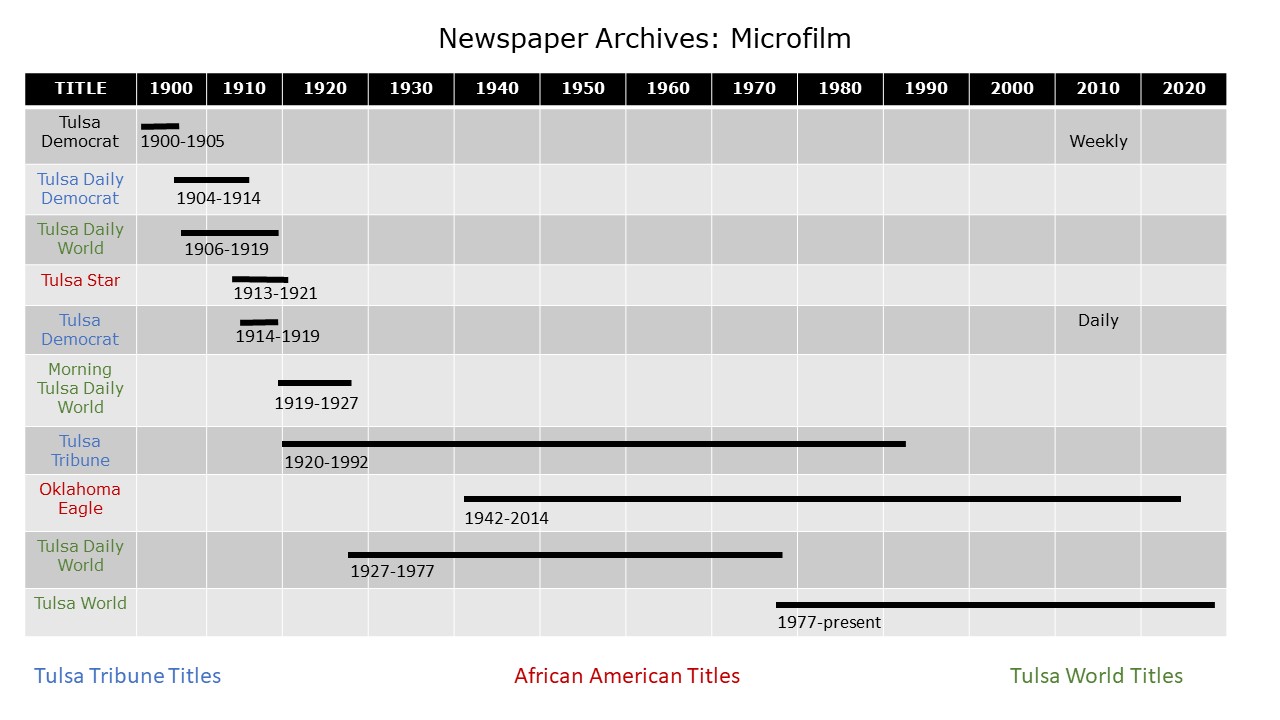 Newspapers Online
Chronicling America: Historic American Newspapers From The Library Of Congress
This site allows you to search and view newspaper pages from 1860-1922 and find information about American newspapers published between 1690-present. Use the advanced search to find content in the Tulsa Star from 1913 to 1921 and in the Tulsa World, titled Tulsa Daily World from 1905 to 1919 and Morning Tulsa Daily World from 1919 to 1922.
The Gateway To Oklahoma History
The Oklahoma Historical Society has made thousands of Oklahoma newspaper pages from the 1840s to the 1920s available here. They continually add to the Gateway and plan to include every newspaper in the OHS collection published prior to 1923. There is some overlap with the titles available from Chronicling America.
NewsBank: America's Newspapers
You'll find many Oklahoma titles here with various dates, the earliest dating back to 1985. Note: Not all historical newspaper databases include full images of newspapers pages. Instead, they may be text only. 
Depending on the significance of your subject matter, you may find local news on a national scale in the NYT archives (1857-present).
1901-present
1989-present
Historical Periodicals
Periodicals In Print
The print periodicals listed below are available in the Research Center of Central Library.   

Some of these titles have been indexed in our 

local publications index.

Titles in black text represent various publication titles from the Tulsa Chamber of Commerce. 

The list represents a substantial portion of our historical Tulsa and Oklahoma periodicals but is not comprehensive. For other titles in print, such as the Chronicles of Oklahoma, please check the catalog.

The publications are not available for check out nor can they be sent to a branch library, but photocopies of articles can be made and routed to a customer's branch library, or they can be scanned and sent via email.

Periodicals Online
Chronicles Of Oklahoma
Some issues are available online from the Oklahoma Historical Society. Others are available online from Oklahoma State University. The complete print collection is available in the Research Center at Central Library.
Oklahoma State University is digitizing magazines published in the state during the territorial and early statehood periods, from around 1890-1910.
Full-text articles date back to the 1940s.
Death Notices And Obituaries 
Death notices are posted by the funeral home and contain only references to the date of death and the date and location of funeral services.
Obituaries are provided and purchased by the family and, though they vary in length, can provide biographical data and information on the survivors of the deceased. 
Death Indexes And Library Of Congress Newspaper Directory
Find dates of publication for death notices and some obituaries in the Tulsa World 1963-1990 and in the Tulsa Tribune 1964-1990.
Funeral Home Records of Tulsa, Oklahoma Index
Volumes I-X: 1906-1984 are available in print in the Research Center. 
The social security death index is available from Ancestry.com. If you don't have an Ancestry.com account, you can access the library edition from any of the library's locations. If you are unable to visit the library, you can contact Research Center staff for assistance.
Library of Congress Newspaper Directory
This directory of newspapers published in the United States since 1690 can help identify what titles exist for a specific place and time and where they can be accessed.
Obituary/Death Notice Requests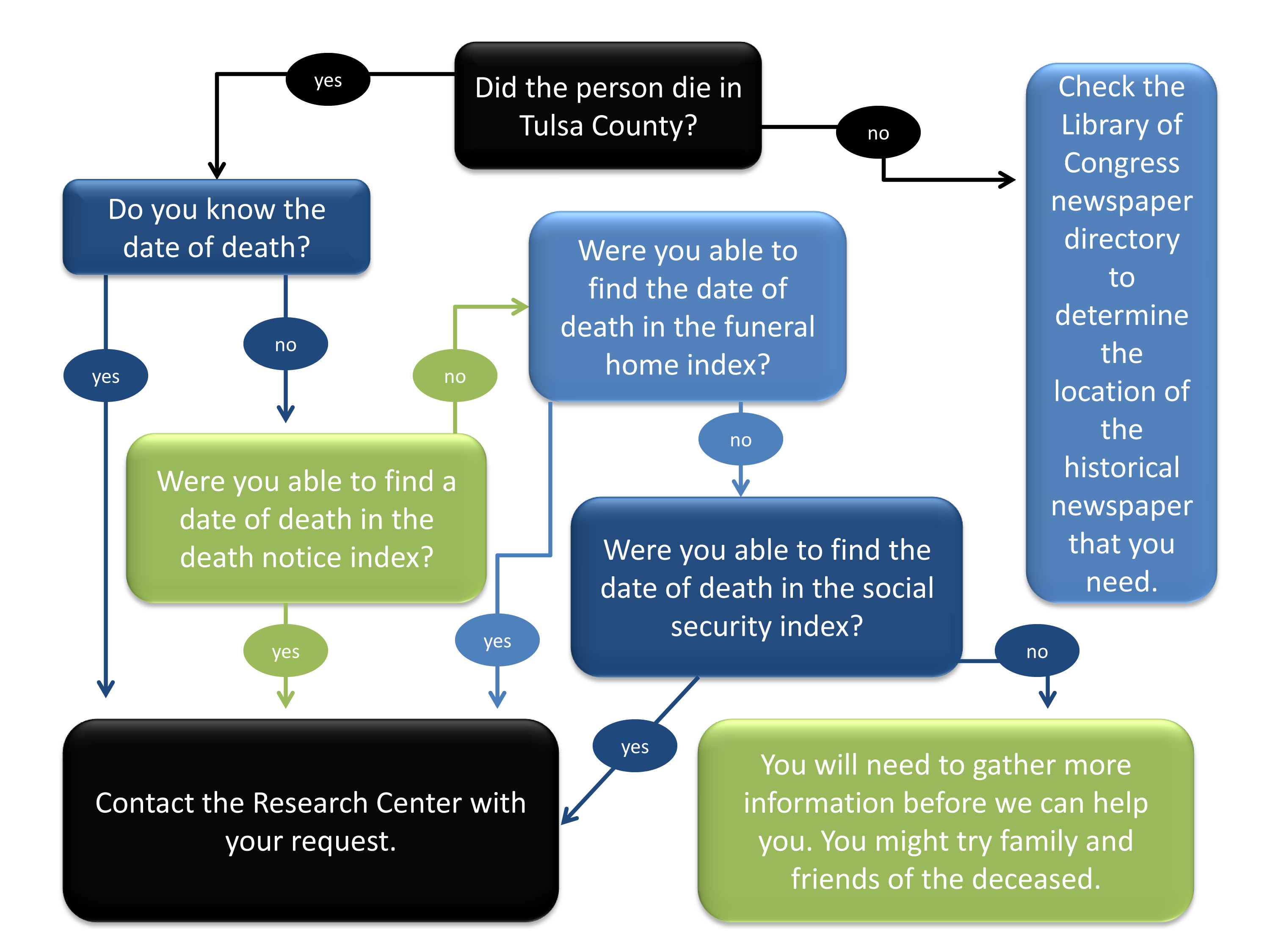 FAQs
I live outside of Tulsa County. Can your library help me with an obituary, death notice, or article from a Tulsa newspaper or periodical?
Research Center staff can help. Here is what you need to know:
Requests can be made by email: askus@tulsalibrary.org or phone: 918-549-7323. You can also use the blue "Ask A Question" tab on the right. 
There is a $10 minimum fee associated with this service. 
Research Center staff will search ten days of microfilm per request, so you need to identify and provide a month, day, and year for staff to begin the search. 
Staff can send the search result by email or post.
There is no guarantee that an obituary will be found because not every family purchased one.
If I am not able to provide a date, can I come in and try to find the article on my own?
Yes! You are free to search the Library's historical newspapers on microfilm and view periodicals from the collection, even if you do not have a library card.
What if I need to make photocopies of the article that I find?
You can print from the microfilm readers and the scanners. Prints are 10 cents a page.
Can I scan an article to a flash drive?
Yes! If you forget to bring a drive of your own, you may purchase one at the Library.