September is Library Card Sign-up Month, a time when TCCL joins the American Library Association (ALA) and libraries nationwide to remind parents, caregivers and students that signing up for a library card is the first step on the path to academic achievement and lifelong learning.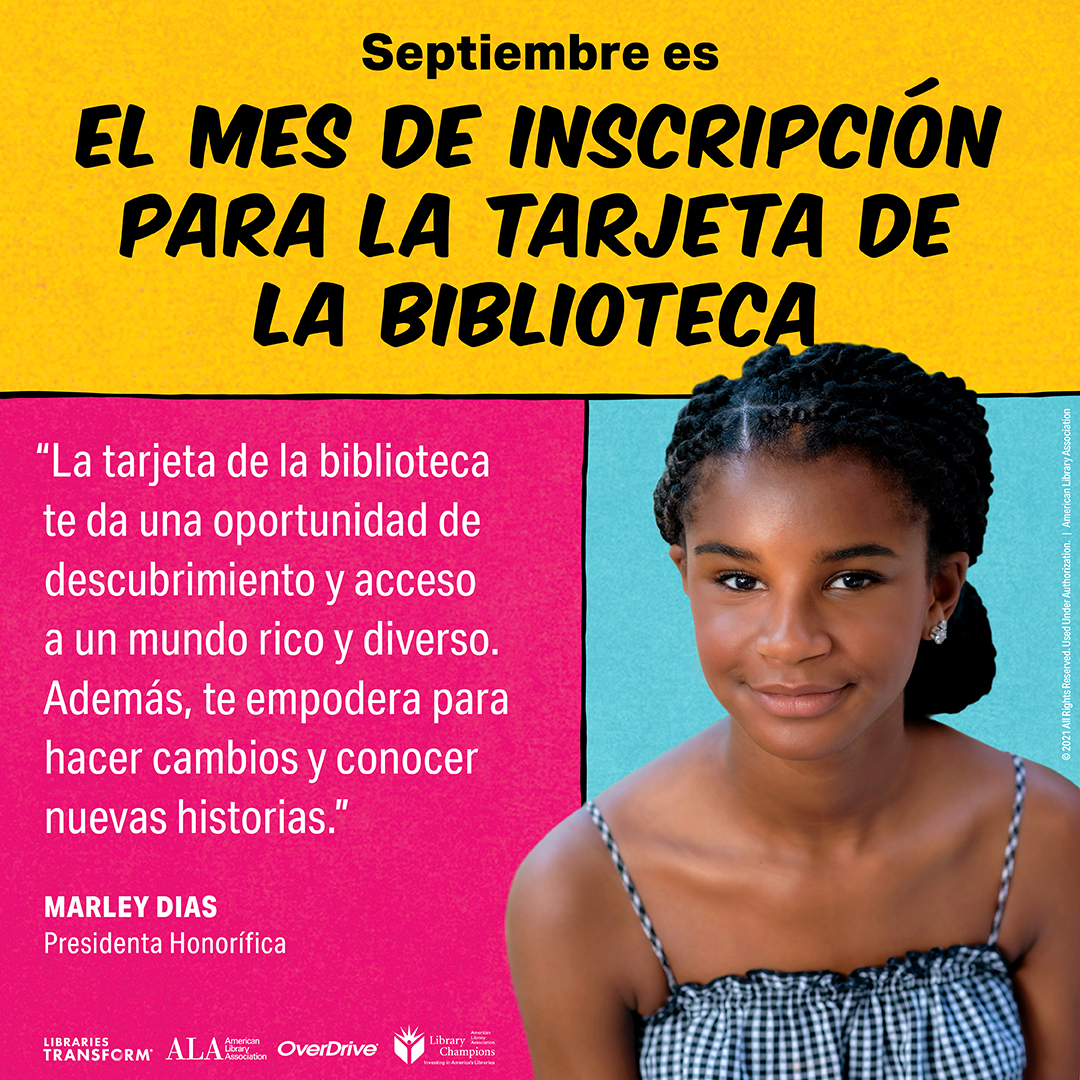 This year,

Marley Dias, founder of #1000BlackGirlBooks, author and executive producer, is taking on a new role as honorary chair of Library Card Sign-Up Month

. In her new role, Dias will promote the value of libraries and encourage everyone to get their very own library card! 
There is nothing more empowering than signing up for your own library card. Through access to technology, media resources and educational programs, a library card gives students the tools to succeed in the classroom and provides people of all ages opportunities to pursue their dreams and passions. 
Libraries offer everything from early literacy programs to virtual homework help and GED classes, helping transform lives and communities through education. TCCL cardholders get access to a variety of educational resources, including dozens of virtual on-demand programs from children's and adult storytimes to author talks and gardening instruction, free databases to help students of all levels achieve academic success and connect with live virtual tutors, plus access to endless amounts of print, digital and audio content for all ages.
Libraries play a significant role in the education and development of children. TCCL curates programs and offers services that serve learners of all ages and backgrounds. For younger children, our Build A Reader Storytimes follow the Every Child Ready to Read initiative established by the Public Library Association and are led by professionals trained in supporting children's literacy and learning development. For children in kindergarten through fifth grade, the Kids Read webpage offers programs and resources to help your kid fall in love with reading!
For teens, TCCL offers an annual creative writing contest, readers' advisory to help you find your next great read, anima/manga clubs, gaming groups and more. Plus, databases like Homework HelpNow and LearningExpress Library are freely available to help students connect with tutors, take practice tests, get writing feedback and more; all for use from the comfort of home!

TCCL, along with libraries everywhere, continues to adapt and expand services to meet the evolving needs of our community. To sign up for a library card or to learn more about the library's resources and programs, please visit https://www.tulsalibrary.org/application. 
Learn more about getting a library card with these videos in English and in Spanish.
Since 1987, Library Card Sign-up Month has been held each September to mark the beginning of the school year. During the month, the ALA and libraries work together in a national effort to ensure every child signs up for their own library card. If you have questions or need help signing up, contact our AskUs helpline at 918-549-7323 or email us at askus@tulsalibrary.org.