Each year in late winter, Tulsa Library hosts the Young People's Creative Writing Contest for students in Tulsa County ages 10-18. The contest is open from February 1st through the first Saturday in March.
Enter through the online form here!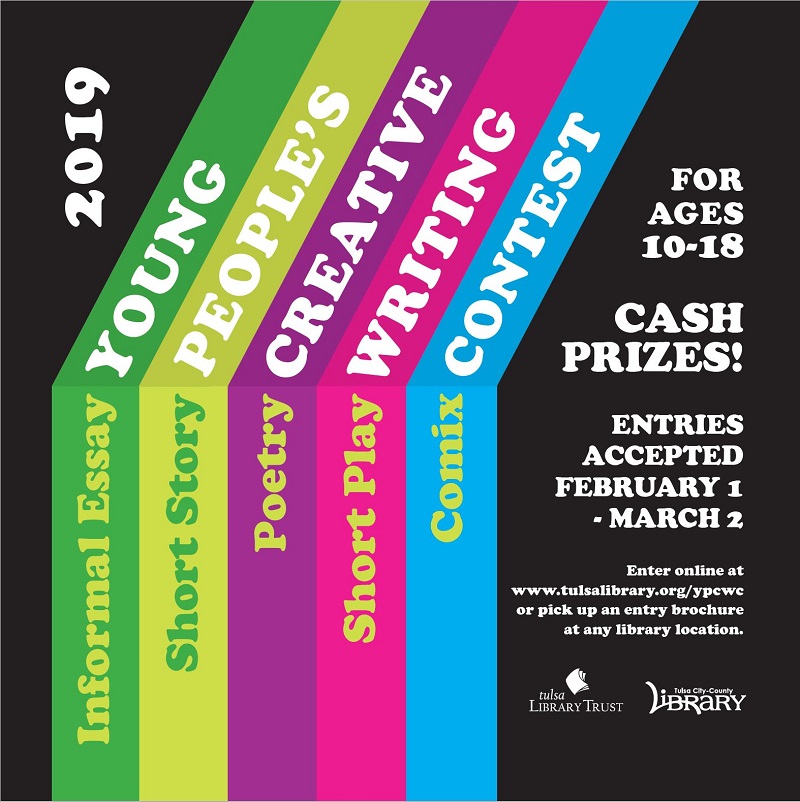 Content
Young People's Creative Writing Contest FAQs
Who can enter the contest?
You may enter the contest if you are: 
Between the ages of 10 and 18 by the last day of the contest, and
Live in Tulsa County

Or attend school in Tulsa County
Or have a non-expired Tulsa City-County Library nonresident library card.
What are the age divisions, categories and rules for each category?
There are three age divisions - 10-12, 13-15, and 16-18. There are five categories for entries: Poetry, Short Story, Informal Essay, Short Play, and Comix. You may enter ONLY one manuscript per category, but you may enter all categories within your age division.
Poetry - One poem, no more than 300 words
Short Story - Each entry no more than 1,500 words
Informal Essay - A short composition on a topic or issue giving your opinion or recounting a personal experience. Limited to 1,500 words.
Short Play - No more than six characters, no more than three locations, no more than 10 pages. Limited to five to 10 minutes in length.
Comix - Entry must be complete in and of itself, and not a fragment of a larger work. No more than eight pages. Work can be with or without words, in black and white or color, and fiction or nonfiction. Computer-generated images are acceptable as long as they are original works (no clip art). Use 8 1/2" by 11" (standard) paper and submit as a flat work, not as a booklet.
How should I format my entry?
Make sure your entry adheres to the following rules. Manuscripts that are illegible, single-spaced, or that otherwise don't meet the following requirements will not be judged.
Do not put your name anywhere on your manuscript. That information should only be on the entry form.
Double-space and TYPE or PRINT LEGIBLY in blue or black ink on 8 1/2" by 11" (standard) paper. Do not use lined notebook paper.
Include the title and page number in the upper right-hand corner of every page, including the first page.
A completed and signed entry form MUST accompany each individual entry, even for the same contestant entering multiple categories.
How do I enter the contest?
Before you submit your entry:
Double-check that you have adhered to all the instructions regarding entries.
If submitting by mail or at your library, staple your manuscript and completed entry form together.
Don't be late! The deadline for entries in the 2019 contest is March 2nd, 2019.
Eligible entrants can enter their work in the contest by submitting entries:
In person at any library location, with a separate entry form for each entry
Online, by uploading their entry as a PDF file at this webpage
By mail, with a separate entry form for each entry (though all entries with their forms may be mailed in one envelope):
Young People's Creative Writing Contest
c/o Youth Services Department
Tulsa City-County Library
400 Civic Center
Tulsa, OK 74103-3857
Do not send your only copy of your entry. Keep a copy for yourself. Manuscripts will not be returned.
How are entries judged?
All entries are judged on the basis of content, originality, and quality of expression. Judges' decisions are final. Judges do not critique entries. All entries are anonymous when given to judges.
When/how are winners notified?
Winners will be notified by phone each year in early April, prior to the award ceremony.
Can teachers enter their students' work?
If you are a teacher submitting students' works, make sure that you have the current year's entry form and that each student completes and signs an entry form for each of their entries. Entries with incomplete forms are not judged. Please determine that your students' manuscripts comply with all contest rules before submitting.
What are the awards given?
Cash prizes are awarded as follows: $100 for first place, $50 for second place, and $25 for third place. Winners will be notified by phone and in a separate mailing from the awards program invitation.
All entrants will receive an invitation to the awards program, which will be held on the first Friday in May, at Connor's Cove Theatre in Hardesty Regional Library. The current winner of the Anne V. Zarrow Award for Young People's Literature will be the featured speaker and will hand out the awards.
Entrants, winners, and their families are invited to attend the awards program.