Tulsa's Greenwood district is the site of one of the most devastating race disturbances in the history of the United States. Before May 31, 1921, Tulsa's black business district known as Greenwood flourished in spite of segregation. It boasted of several restaurants, theaters, clothing shops and hotels. Dubbed the "Black Wall Street," Greenwood was an economic powerhouse.
After May 31, 1921, Greenwood would never be the same. The tension mounted between the black and white communities over an incident that allegedly occurred in an elevator at Drexel building in downtown Tulsa involving Sarah Page, a 17-year-old white elevator operator, and Dick Rowland, a 19-year-old black man. There are several versions of what supposedly transpired, but the most common being that Dick Rowland accidentally stepped on Page's foot in the elevator, throwing her off balance. When Rowland reached out to keep her from falling, she screamed. Many Tulsans came to believe through media reports that Rowland attacked Page although no sufficient evidence surfaced to substantiate the claim. The incident was further escalated by a local newspaper headline that encouraged the public to "Nab Negro for Attacking Girl in Elevator."
The strained relationship between the white and black communities, the heightened jealousy of the success of the Black Wall Street area and the elevator encounter led to the Tulsa Race Riot.
Armed white men looted, burned and destroyed the black community. When the smoke cleared, mere shells of buildings were all that remained of the business district. The Red Cross estimates that more than 300 people were killed and approximately 1,200 homes were destroyed.
Content
1921 Tulsa Race Riot Kit for Teachers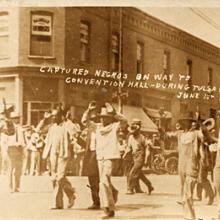 Kits may be checked out from the African-American Resource Center by teachers only. Each kit includes the following resources:
Bibliography of Resources
Books
American Red Cross. Tulsa Area Chapter. Report, Tulsa Race Riot Disaster. [S.1:s.n.,1994] 361.76340976 686 A512 1994.
Ellsworth, Scott. Death in a Promised Land: The Tulsa Race Riot of 1921. Baton Rouge: Louisiana State University Press, 1982. 976.686 E47d 1992
Gates, Eddie Faye. They Came Searching: How Blacks Sought the Promised Land in Tulsa. Austin, Texas: Eakin Press, 1997. 976.68600496 073 G223t 1997.
Hower, Robert N. 1921 Race Riot and the American Red Cross: Angels of Mercy. Tulsa, Oklahoma: Homestead Press 1993. 976.686. H839o 1993.
Johnson, Hannibal. Black Wall Street: From Riot to Renaissance in Tulsa's Historic Greenwood District. Austin, Texas: Eakin Press, 1998. 976. 686 J632b 1998.
Parrish, Mary E. Jones. Race Riot 1921: Events of the Tulsa Disaster. Tulsa, Oklahoma: Out on a Limb Publishing, 1998. 976.686052 P249r 1998.
Newspapers
"85 Whites and Negroes Die in Tulsa Riots as 3,000 Armed Men Battle in Streets: 30 Blocks Burned, Military Rule in City," New York Times. 2 June 1921, pp.1-2.
"Denies Negroes Started Tulsa Riot," New York Times, 5 June 1921, col. 1, p.21.
"Klan Head Asks Tulsa to Rally," Chicago Defender, 20 August 1921.
"A Near Lynching: Cowards failed to Lynch a colored Man," Tulsa Star, 24 August 1918.
"Tulsa Race Riot: Jury Indicts Police Chief," New York Times, 26 June 1921, col.4, p.16.
"Tulsa in Remorse to Rebuild Homes: Dead Now up to 30," New York Times, 3 June 1921, col.8, p.1.
Magazines & Journals
Commander, Tulsa Post, African Blood Brotherhood, " The Tulsa Riot," The Crusader, July 1921, vol., IV. No.5, pp. 5-25.
Cremin, Pat, "Greenwood is Fading.," Oklahoma Impact Magazine,June/July 1971, vol. 4, pp. 3-5.
Halliburton, R., Jr., "The Tulsa Race War of 1921," Journal of Black Studies, March 1972, vol.2, No. 3, pp. 333-357.
Wheeler Ed, "Profile of a Race Riot," Oklahoma Impact Magazine, June/July 1971, vol. 4, pp. 14-26.

In addition to the articles, magazines and journals listed above, the African-American Resource Center also has holdings of, the June 14, 1921 address by Mayor T. D. Evans to the City of Tulsa's Commissioners Board concerning the riots.
DVDs
In search of history. The night Tulsa burned / producer/writer, Sean P. Geary ; producer, Mark Montgomery.
[New York] : History Channel, 2002
Terror in Tulsa: History Uncovered. : CN8 : in association with FullMind, c2008
VHS
First person singular: John Hope Franklin / Dick Young Productions for Lives and Legacies Films.
[Alexandria, Va.] : PBS Home Video, c1997.
Riot and remembrance. West Lafayette, IN : C-SPAN Archives, 2004.
The Greenwood Blues: The Tulsa Race Riot of 1921 / KOCO TV 5 Alive. Oklahoma City : KOCO TV 5 Alive.