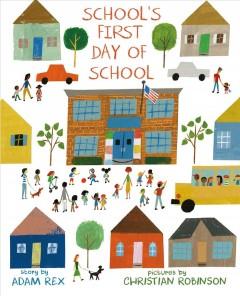 Savvy parents and teachers know that picture books are an excellent way to help children confront and process a variety of anxieties and fears. If your child is apprehensive about the fast-approaching first day of school, consider reading and sharing Adam Rex's book, "School's First Day of School," illustrated by the masterful Christian Robinson. (Robinson will be coming to Tulsa in November as part of the Books To Treasure program!)
In this sweet and snappy story, a highly original twist on the traditional back-to-school story emerges: the new "student" at school is, in fact, School. School has just been built, and he's nervous about what will happen! Will he make friends? Will the children like him?
The book follows School as he gets comfortable and begins to enjoy the day, particularly as he makes friends with a freckled young girl.
Booklist concludes: "With bold illustrations featuring a diverse array of children and text that's ideal for reading aloud, this charming reversal of first-day-of-school nerves will delight little ones and help put their own anxieties at bay.
- Laura Raphael, Children's Services Coordinator, Tulsa City-County Library