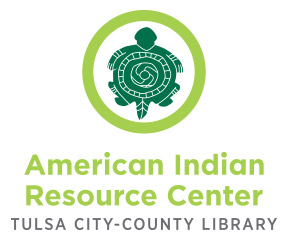 Tulsa City-County Library's American Indian Resource Center (AIRC) is one of only two centers in public libraries across the nation that provides cultural, educational and informational resources, activities and services highlighting the American Indian culture. The AIRC, which began in 2003, provides access to more than 4,000 books, periodicals, and media for adults and children by and about American Indians, including historical and rare materials, new releases, films and music with a focus on native languages.
Start With These Resources
Online Educational Resources
Podcasts
All My Relations is a team of folks who care about representations, and how Native peoples are represented in mainstream media. Between us we have decades of experience working in and with Native communities and writing and speaking about issues of representation. 
American Indian Living is a one-hour weekly talk show focusing on health issues in Indian country. The live talk show was developed for radio by the Native Education and Health Initiative, a non-profit organization providing comprehensive services for the health needs of American Indians through education. The show covers a broad range of health issues, viewed in a holistic way in keeping with traditional Native perspectives. Acting as show host is David DeRose M.D., president of the Oklahoma-based CompassHealth, Inc.
This live call-in program links public radio stations, the Internet and listeners together in a thought-provoking national conversation about issues specific to Native communities.  Each program engages noted guests and experts with callers throughout the United States and is designed to improve the quality of life for Native Americans. Native America Calling is heard on nearly 70 public, community and tribal radio stations in the United States and in Canada. Our program is a production of Koahnic Broadcast Corporation, a Native-operated media center in Anchorage, Alaska.
Join show host Vincent Schilling - an enrolled member of the St. Regis Mohawk Tribe, award-winning photojournalist, book author, public speaker and Executive Vice President of Schilling Media, Inc. and co-host Delores Schilling, CEO and President of Schilling Media, Inc. as we talk to best and the brightest, the movers and shakers and of course ... Native Trailblazers!!
Explore Native American Culture through the people and their stories! Welcome everyone - Natives and people looking to learn more about this vibrant living culture. Hosted by Paul Gowder the creator and owner of PowWows.com. PowWows.com is your source for all things Native American since 1996.
Learning to decolonize our bodies one podcast at a time.
An 1839 assassination of a Cherokee leader and a 1999 murder case – two crimes nearly two centuries apart provide the backbone to an upcoming (at the time) 2019 Supreme Court decision that will determine the fate of five tribes and nearly half the land in Oklahoma.
In this Crooked Media podcast, Cherokee host Rebecca Nagle takes us through history and within the midst of a thrilling investigation, which leads us to a relevant
Supreme Court decision.
About the AIRC
American Indian Resource Center
Nestled in the northern corner of the Muscogee (Creek) Nation, the American Indian Resource Center resides at the Zarrow Regional Library in west Tulsa.  The AIRC is one of only two centers in public libraries across the nation that provides cultural, educational and informational resources, activities and services highlighting the American Indian culture. 
AIRC E-Newsletter
In an effort to inform the public about services, programs and resources available through the AIRC, an e-newsletter is released each month. Please feel free to forward the newsletters to others who might be interested or benefit from the information.
Contact Information
Address:
Zarrow Regional Library
2224 W. 51st St.
Tulsa, OK 74107
Driving Directions
Hours:
Sunday: 1:00 pm to 5:00 pm
Monday: 9:00 am to 9:00 pm
Tuesday: 9:00 am to 9:00 pm
Wednesday: 9:00 am to 9:00 pm
Thursday: 9:00 am to 9:00 pm
Friday: 9:00 am to 6:00 pm
Saturday: 9:00 am to 5:00 pm
Contact:
Phone: (918) 549-7323
Email: askus@tulsalibrary.org 
Awards
OKLAHOMA HUMANITIES COUNCIL ANNOUNCES 2011 TULSA AWARDEES
Oklahoma City, OK—The Oklahoma Humanities Council (OHC) announced the names of the 2011 awardees to be honored at its Oklahoma Humanities Awards dinner, February 24, 2011, at the Oklahoma History Center in Oklahoma City. 
"We want to honor the people and programs that enrich our state's cultural life," said OHC Executive Director Ann Thompson. "The occasion demonstrates the relevance of the humanities to modern society. By recognizing outstanding public programs like exhibits, book discussions, and classroom projects, we can showcase how the humanities expand our worldview and change people's lives every day."
 
Tulsa City-County Library projects and employees will be recognized, including:
 
The American Indian Resource Center of the Tulsa City-County Library will be honored with the Humanities in Education Award for achievements in language preservation through development of its Native Language Supplemental Packet. These materials were developed for educators and students to facilitate learning introductory words and phrases, and to stimulate further interest in the Native language. The packet has been used successfully in the Sauk and Euchee language programs.

Teresa Runnels, coordinator for the resource center, is gratified to see the work recognized. "Receiving the 2011 Oklahoma Humanities Council's Education Award galvanizes my desire to see American Indian history and traditions preserved," said Runnels. "Knowing the history of the people who lived in North America long before us is important to understanding the path we will travel in the future."
Cindy Hulsey and Laura Raphael of the Tulsa City-County Library will receive the Community Leadership Award for creation and implementation of "Novel Talk: Smart Conversations for Serious Readers." 
 
For more information contact OHC at 405/235-0280 or visit www.okhumanities.org
About the Oklahoma Humanities Council
The Oklahoma Humanities Council is an independent, nonprofit organization whose mission is to provide meaningful public engagement with the humanities—disciplines such as history, literature, film studies, art criticism, and philosophy. As the state partner for the National Endowment for the Humanities, OHC provides teacher institutes, Smithsonian exhibits, reading groups, and other cultural opportunities for Oklahomans of all ages. With a focus on K-12 education and community building, OHC engages people in their own communities, stimulating discussion and helping them explore the wider world of human experience.
Land Acknowledgement
The Tulsa City-County Library acknowledges that the land on which we are gathered is the home of the Cherokee, Muscogee-Creek, and Osage Nations, as well as the Caddo, Wichita, Quapaw, Kiowa, Comanche, Plains-Apache, and other tribes who called this land their home or hunting grounds before the forced removal to Indian Territory. As guests on this land, we respect their hospitality and honor their history. 
Programs & Activities
American Indian Festival of Words
Tribal elders, storytellers, craftsmen, dancers and musicians share the history and traditions of North America's native people during the American Indian Festival of Words, held annually in March. 
The free festival celebrates the contributions of American Indians through enlightening family programs offered at numerous libraries.
The highlight of the festival is the presentation of the American Indian Festival of Words Writers Award and the Circle of Honor ceremony, which alternate each year.
American Indian Circle of Honor
This event takes place the first Saturday in March.
Inaugurated in 2004, the Circle of Honor Award Presentation honors an American Indian for their lifetime achievements and contributions that have enriched the lives of others. Induction into the Circle of Honor is a celebration of the honoree's actions in the face of adversity, commitment to the preservation of American Indian culture and legacy for future generations. An individual is inducted into the Circle of Honor in even-numbered years. Recipients receive a $5,000 cash prize which is sponsored by the Maxine and Jack Zarrow Family Foundation.
2020 Walter Echo-Hawk (Pawnee) 
2018 Dr. Henrietta Mann (Cheyenne)
2016 Sam Proctor (Muscogee Creek)                                            
2014 Ruthe Blalock Jones  (Shawnee)
2012 Kirke Kickingbird (Kiowa)                                                              
2010 Billy Mills (Oglala Sioux)                                                   
2008 Neal McCaleb (Chickasaw)                                         
2006 Wilma Mankiller (Cherokee)
2004 Charles Chibitty (Comanche)
American Indian Writers Award
This event takes place the first Saturday in March.
Inaugurated in 2001, the American Indian Festival of Words Writers Award recognizes written contributions of outstanding American Indian authors, poets, journalists, film and stage scriptwriters.  It is the first and only award given by a public library to honor an American Indian writer. The award is given in odd-numbered years. Recipients receive a $5,000 cash prize which is sponsored by the Maxine and Jack Zarrow Family Foundation.
2019 Laura Tohe (Navajo)
2017 Tim Tingle (Choctaw)
2015 Joseph Bruchac (Abenaki)                                                                               
2013 Sterlin Harjo (Seminole/Creek)                  
2011 LeAnne Howe (Choctaw)       
2009 No Award Given                   
2007 Carter Revard (Osage)                              
2005 Leslie Marmon-Silko (Laguna Pueblo)
2003 Vine DeLoria, Jr. (Standing Rock Sioux
2001 Joy Harjo (Muscogee Creek)