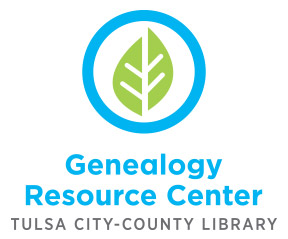 The Genealogy Center of the Tulsa City-County Library is one of the largest genealogy collections in Oklahoma.  Along with a large collection of resources on Tulsa county and Oklahoma, the Center offers a comprehensive collection on many other states, primarily those states that follow the migration pattern of families who came to Oklahoma and the mid-west. 
About the Genealogy Center
Genealogy Reference and Research Services
Genealogy research questions can be answered by telephone, email, or letter. Examples of email phone inquiries are questions about what is owned by the library, an address, or information on a research topic. The department is not able to conduct research by phone. The staff is unable to return long distance telephone calls. Specific questions can be answered by letter or email.  
For a copy of an obituary in the Tulsa Tribune or Tulsa World, contact the Research Center at rcaskus@tulsalibrary.org. Newspapers and city directories dating back to the early days of Tulsa can be requested through the Research Center.
Books, microfilm, microfiche, maps, magazines and journals, and access to online subscription databases offer family historians access to both traditional resources as well as online digitized records. The Center is an Affiliate Library with the Family History Library in Salt Lake City, Utah allowing researchers access to online digitized records.

A library card is required to access the subscription databases, but not to use the print materials. Non-residents can purchase a guest card for $2.00. Computer printouts, microfilm copies, and photocopy charges are $.10. Scans to flash drives are free.  
Programs and Events
Free Genealogy Websites
Sat. Feb. 2, 2019
10:00-11:00 
Maple Room, Hardesty Library
You don't have to pay for subscription websites to locate family history information.  Many free sites contain useful genealogical information.  Join us for a tour of some of these useful sites.
DNA Workshop with Blaine Bettinger, The Genetic Genealogist
Sat. March 16, 2019
9:30-4:00
Frossard Auditorium, Hardesty Library
Using Y-DNA and mtDNA to Explore you Ancestry
Learn how the Y-DNA and mtDNA tests can help break through brick walls and identify your close and distant relatives and explore your ancient ancestry.
Using Autosomal DNA to Explore your Ancestry
Autosomal DNA tests reveal ethnicity estimates and can connect you with long-lost cousins.  Discover how these results can contribute to solving specific genealogical problems.
Using Autosomal DNA for 18th and 19th Century Mysteries
Using examples, we will learn how to use autosomal DNA to attack and potentially solve mysteries and brick walls for ancestors who lived in the 1800's and beyond.
Using GEDmatch and DNAPainter to Analyze your Autosomal DNA
Although DNA testing companies provide an analysis of test results, third-party tools such as GEDmatch and DNAPainter allow test-takers to learn even more about their genomic heritage.