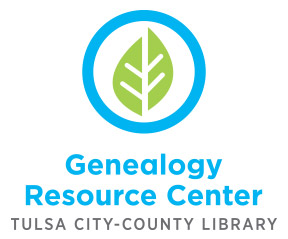 The Genealogy Resource Center of the Tulsa City-County Library is one of the largest genealogy collections in Oklahoma.  Along with a large collection of resources on Tulsa county and Oklahoma, the Center offers a comprehensive collection on many other states, primarily those states that follow the migration pattern of families who came to Oklahoma and the mid-west.
We ask for patience with Book A Librarian appointments as response times might be slower due to busy staff and desk coverage. We will contact you as soon as we can to schedule that Book A Librarian appointment with you.
The Genealogy Resource Center provides research materials and basic research help only. In-depth research should be done by the individual or by obtaining the services of a professional researcher. 
Genealogy Detectives: Researching African American Ancestors
Join us on Saturday, February 4 at 10:30 a.m. at Suburban Acres Library, 4606 N. Garrison Ave., Tulsa, OK 74126 for our next Genealogy Detectives program, Researching African American Ancestors!
Family history research can be challenging for African Americans. Join us for tips on how to get started and learn about useful online resources based on our research guide which can be found on our website.
For adults. Registration required. Register here https://events.tulsalibrary.org/event/7730471 or call 918-549-7691.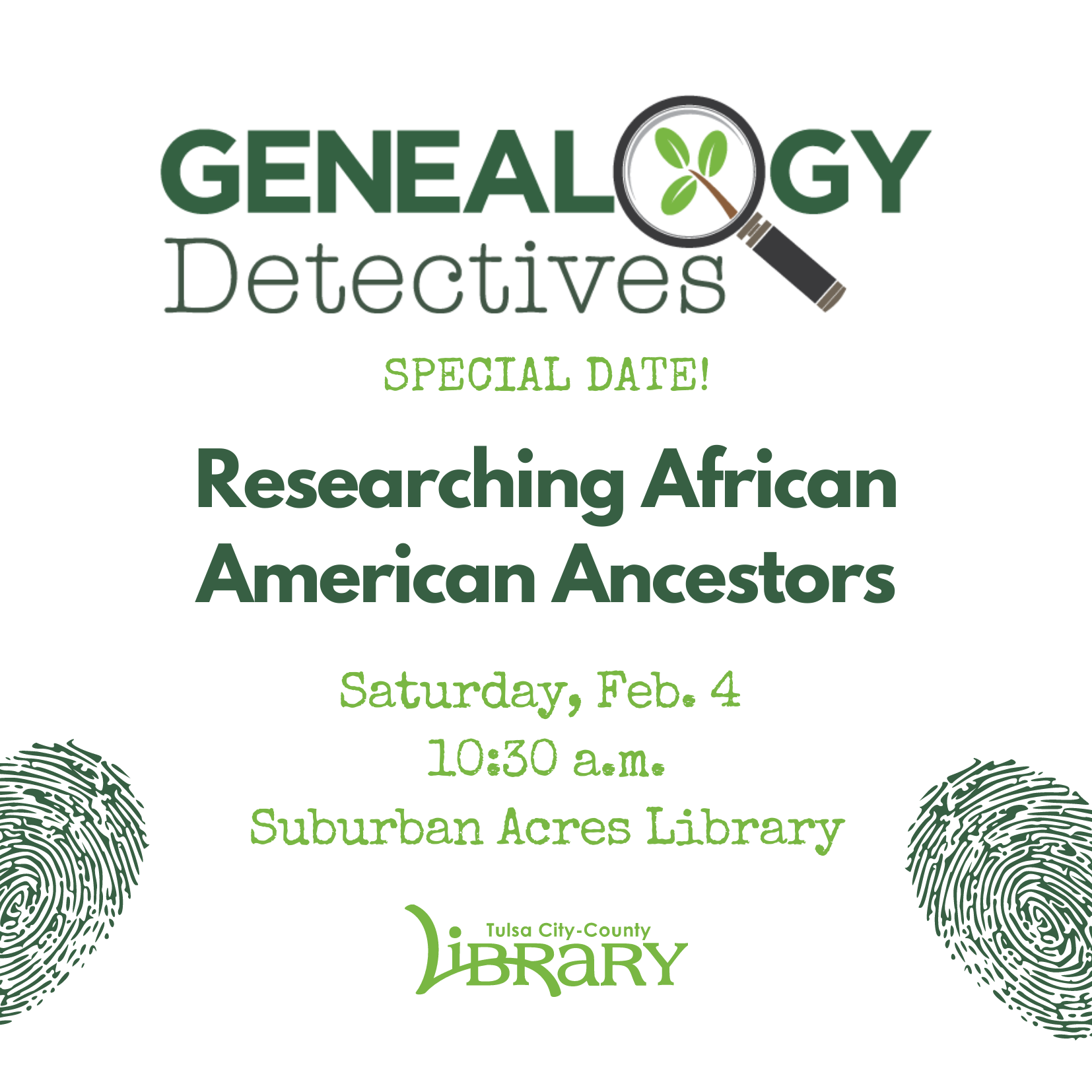 About the Genealogy Resource Center
Genealogy Reference and Research Services
Genealogy research questions can be answered by telephone, email, or letter. Examples of email phone inquiries are questions about what is owned by the library, an address, or information on a research topic. The department is not able to conduct research by phone. The staff is unable to return long distance telephone calls. Specific questions can be answered by letter or email.  
For a copy of an obituary in the Tulsa Tribune or Tulsa World, contact the Research Center at rcaskus@tulsalibrary.org. Newspapers and city directories dating back to the early days of Tulsa can be requested through the Research Center.
Books, microfilm, microfiche, maps, magazines and journals, and access to online subscription databases offer family historians access to both traditional resources as well as online digitized records. The Center is an Affiliate Library with the Family History Library in Salt Lake City, Utah allowing researchers access to online digitized records.

A library card is required to access the subscription databases, but not to use the print materials. Non-residents can purchase a guest card for $2.00. Computer printouts, microfilm copies, and photocopy charges are $.10. Scans to flash drives are free.  
Genealogy Resource Center Video
Additional Information
Frequently Asked Questions
1.  How do I obtain a copy of a birth or death certificate?
The Department of Health and Human Services publishes a document titled Where to Write for Vital Records. Look up the state in which the event occurred to find the address and fee information for obtaining birth, death, marriage, and divorce certificates. Since vital records are handled at the state level, Internet services vary greatly. You can find the home pages for all fifty state governments by using State and Local Government on the Net. From the state home page, you can search for information on how to request vital records from that state. You can obtain Oklahoma birth and death certificates locally at the Oklahoma Department of Health, 5051 S.129th East Ave., Tulsa, OK 74134. They are open between 8:30 AM and 4 PM, Monday-Friday. Their phone number is 918-594-4840.
2.  What does my last name mean?
The meanings of our surnames can give us important information about our families. The country of origin is usually included with the meaning. Some library branches have surname dictionaries which contain many prominent family names; however, the Research Center at Central Library and the Genealogy Center have the widest variety of surname dictionaries.
3.  Where can I find the coat of arms for my family?
Heraldry is the study of a family's coat of arms. Coats of arms were granted to individuals for services rendered. Because of this practice, individual family members may have very different coats of arms. There are books about heraldry and coats of arms located at the Genealogy Center. To be able to identify your ancestor's coat of arms, you would have to determine the name of the ancestor who was actually granted a coat of arms and then locate his specific coat of arms.
Many people locate a coat of arms belonging to a person with the same surname as theirs and use that for their family's coat of arms. Although this is an accepted practice in the United States, it is not legally accepted in countries such as England and Scotland who maintain a registry of arms.
4.  How can I find my family history online?
Each day more and more information is added to the internet to assist researchers. To locate actual family records, a researcher should begin by searching more established websites maintained by archives, libraries, museums, institutions, etc. These sites are linked to other sites that may be of help to researchers. Many researchers have created family webpages and uploaded them to the internet. By locating these sites, researchers can connect with each other and share information.
Remember that information found on the internet is not always reliable and correct. Once you locate family information, verify everything by checking documentation and sources. Researching your family's history requires many hours of research, documentation and reading.
5.  Where do I locate a marriage record?
Marriage records are located in the county courthouse in the county where the marriage occurred. One way to determine a county location would be to find the individual on the federal census at the time of marriage and check that county's records. Most counties have indexes of both the bride's name and the name of the groom. Using these indexes, the date and location of the actual marriage certificate can be obtained.
6.  Are the Mormon Church's genealogy records available to the public?
The Church of Jesus Christ of Latter Day Saints (also known as the Mormon Church) maintains the largest collection of genealogy materials in the world. The Genealogy Center has been designated an affiliate Family Search Center and can access digitized materials on their website at www.familysearch.org.  For more information about this service see the Additional Resources tab on our web page and look at the Family History Center box.
7.  What is the latest census information that is available for research?
The federal census has been taken every 10 years since 1790. The earliest censuses contain only the names of the heads of households. From 1850 forward, names of every person were included on the census.
The census contains helpful information such as age, place of birth, and occupation. Later censuses contain immigration and naturalization information. The census is arranged by state and then by county. A census exists for every state that was a state at the time the census was taken. Knowing when the state you are researching became a state will aid you in determining the earliest census that is available for that state. 
The complete U.S. census is available and indexed on Ancestry Library Edition. Find the link on the genealogy center website.  
Currently, there is a 72 year privacy law in effect making the 1950 census the latest census available for researchers.
8.  Where are genealogy collections and resources located?
There are many places a researcher can locate genealogy materials. Legal documents such as birth and death certificates and marriage records will be located with the issuing agency. Other places to search would be state archives and libraries, historical and genealogical societies and public libraries. These depositories will maintain local and state records such as military records, cemetery and funeral home records and local newspapers. Because researchers are interested in where their ancestors lived, these local records will prove very helpful in documenting the daily lives of our ancestors.
If it is impossible to make a personal visit to the local area where your ancestor lived, many of the agencies will do limited research for a nominal fee. Many of these agencies maintain a website listing their policies, addresses, etc.
9.  How can city directories assist me in my family research?
If your ancestors lived in the city, you may find listings for them in city directories. These directories predate telephone books and list city dwellers by name and address. Using city directories you can determine when a person first arrived in the area, where he lived and when he left the area or died. The directories usually give the name of the wife. Often, they include an occupation in the listing.
City directories for the city of Tulsa are located in the Research Center at the Central Library. The Genealogy Center has Tulsa city directories for 1928, 1929, 1930, 1931, 1932, 1939, 1940, 1941, and 1948.
10. How can I locate old newspapers?
Many genealogists use newspapers to discover information about their family. If families lived in rural areas, local newspapers were usually full of information about local citizens. Many carried stories about church news, 50th wedding anniversary celebrations, family reunions, funerals, etc. These smaller papers devote more space to the local citizenry than larger news stories and events. These newspapers can be a gold mine of information to researchers.
Most newspapers were not indexed before the early 1990s -- many are still not indexed. Researchers need to know exact dates to locate articles.
Local public libraries and state archives maintain copies of older newspapers. They will usually make copies of articles, but will not be able to spend time searching for articles. Some institutions loan copies of their newspapers on microfilm through interlibrary loan.
Newspapers for the city of Tulsa are located at the Central Library.
Newspapers for cities and towns in Oklahoma are located at the Oklahoma Historical Society newspaper archives in Oklahoma City, OK.
11. Can you help me fill out my American Indian Tribal Enrollment Application? 
Unfortunately, the Genealogy Resource Center staff is unqualified to assist in the application process for Tribal enrollment. If you need assistance in filling out an application, we encourage customers to please check with the tribe you are applying with for further assistance. We do offer digital access to the Dawes Rolls, Dawes Applications, and Guion Miller Rolls that you may search at your leisure while visiting the Genealogy Resource Center and using the genealogy computers available to library customers.  
Tip Sheets
All-Black Towns of Oklahoma Map (From Oklahoma Historical Society) (Coming Soon)
Oklahoma Land Openings Guide (From Oklahoma Historical Society) (Coming Soon)
Genealogy Lectures and Classes
Researching Latinx American Ancestors
Researching African American Ancestors
Tech Talk: Genealogy @ Home
Beginning Genealogy with Kathy Huber