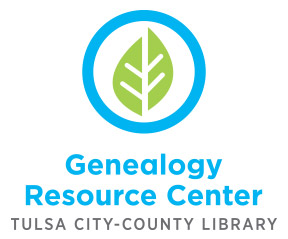 The Genealogy Center of the Tulsa City-County Library is one of the largest genealogy collections in Oklahoma.  Along with a large collection of resources on Tulsa county and Oklahoma, the Center offers a comprehensive collection on many other states, primarily those states that follow the migration pattern of families who came to Oklahoma and the mid-west.
The Genealogy Center provides only research materials and basic research help. In-depth research should be done by the individual or by obtaining the services of a professional researcher. 
About the Genealogy Center
Genealogy Reference and Research Services
Genealogy research questions can be answered by telephone, email, or letter. Examples of email phone inquiries are questions about what is owned by the library, an address, or information on a research topic. The department is not able to conduct research by phone. The staff is unable to return long distance telephone calls. Specific questions can be answered by letter or email.  
For a copy of an obituary in the Tulsa Tribune or Tulsa World, contact the Research Center at rcaskus@tulsalibrary.org. Newspapers and city directories dating back to the early days of Tulsa can be requested through the Research Center.
Books, microfilm, microfiche, maps, magazines and journals, and access to online subscription databases offer family historians access to both traditional resources as well as online digitized records. The Center is an Affiliate Library with the Family History Library in Salt Lake City, Utah allowing researchers access to online digitized records.

A library card is required to access the subscription databases, but not to use the print materials. Non-residents can purchase a guest card for $2.00. Computer printouts, microfilm copies, and photocopy charges are $.10. Scans to flash drives are free.