Contact:
Manager:
Kelly Bayles
Phone: 918-549-7323

Sign up for our newsletter!


Services: 
American Indian Resource Center
3D Printer
Wi-Fi
Wireless Printing
Public Print, Fax, Scan, & Copy
Public Access Computers
Laptops for In-Library Use
Meeting Rooms
Bike Locks
Skateboard Stand
Hours
Sunday:
1:00 pm to 5:00 pm
Monday:
9:00 am to 9:00 pm
Tuesday:
9:00 am to 9:00 pm
Wednesday:
9:00 am to 9:00 pm
Thursday:
9:00 am to 9:00 pm
Friday:
9:00 am to 6:00 pm
Saturday:
9:00 am to 5:00 pm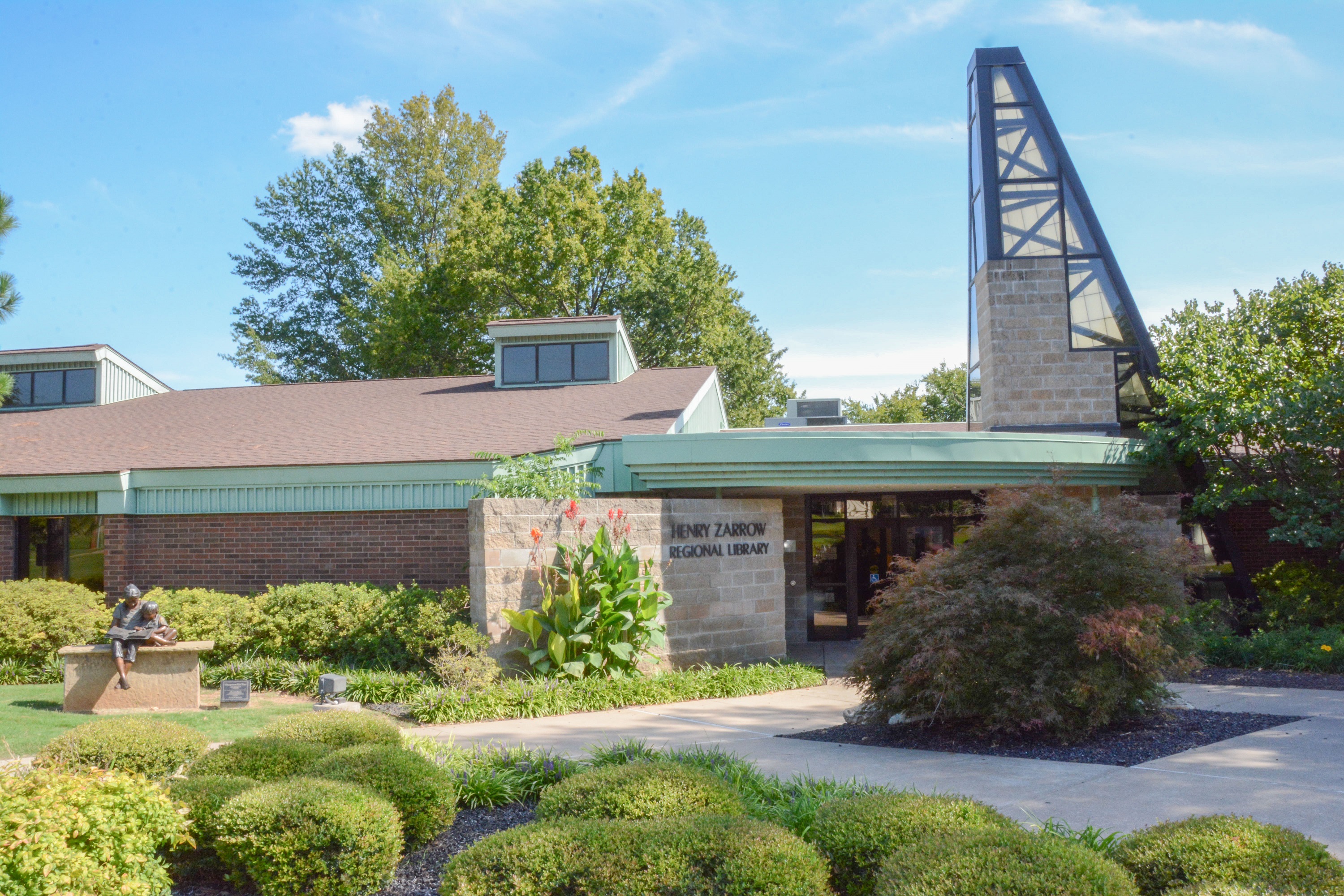 Henry Zarrow Regional Library is one of four Regional Libraries in the Tulsa City-County Library system and is home to TCCL's American Indian Resource Center, which provides resources for and about the American Indian population. Located just off Route 66 in Southwest Tulsa, Zarrow Library is vital to the west region of Tulsa County and serves an increasingly diverse community with an array of family programming. Zarrow also offers a wide variety of services and materials.
Zarrow Regional Library has 38 public computers, a 3D printer, and a cheerful staff eager to help find what you need. In addition, staff offer one-on-one Book-A-Librarian appointments for in-depth assistance. The Storytime Room has a railroad theme and Storytimes are offered every Wednesday morning, in addition to monthly LEGO nights and craft events.
Zarrow offers two meeting rooms which seat 65 and 82. Click here for the Online Request for Meeting Room
More Information
Zarrow Regional Library History
Red Fork Branch Library was the precursor to Zarrow Regional Library in West Tulsa. Opened in 1923, the library was located in the upstairs of Red Fork City Hall at 2628 W. 40th Pl. Violet Williams was the first librarian. In 1942, the citizens of Red Fork approved a $15,000 bond issue to build a new library, though World War II delayed construction for 10 years. In 1951, the new Red Fork Library opened at 2310 W. 41st St. on land donated by the Clinton Estate. Mae Swafford was the librarian from 1951 until her retirement in 1972. Betty Kennedy succeeded Mrs. Swafford as Library Manager until 1992.
Red Fork Library closed in 1981 and reopened in its current location, 2224 W. 51st St., as the West Regional Library. Designed by Imel-Graber Architects, the 9,545 sq ft facility was the third of four regional libraries to open in Tulsa County. Opening day festivities included jousting and a hot air balloon launch. A medieval-themed stained glass window designed by artist Richard Bohm accented the front desk area, and remains a focal point of the library today.
A tornado damaged West Regional Library in May 1999, taking off the meeting room roof though damage to the rest of the building was minimal. The new roof, exterior repairs, and painting gave the library a fresh look and paved the way for a future renovation.
In 2003, the library underwent a renovation and expansion, adding 5,000 sq ft for a larger library service area and a Teen Center. Designed by Dewberry, the remodeled library opened in October 2004 as the Henry Zarrow Regional Library in recognition of a very special gentleman and dedicated supporter of the Tulsa City-County Library. The bison statue in front of the library is named "Mr. Henry the Reading Buff" in honor of Mr. Zarrow. In 2005, the Zarrow family donated "Storytime for Two," a bronze sculpture by local artist Rosalind Cook, in remembrance of Mr. Zarrow's late wife, Anne. 
In 2013, Zarrow Regional Library welcomed the American Indian Resource Center and Coordinator Teresa Runnels: https://www.tulsalibrary.org/research/american-indian-resource-center.  
Red Fork Library Managers
Violet Williams 1923-1951
Mae Swafford 1951-1972
Betty Kennedy 1992-1981
West Regional Library Managers
Betty Kennedy 1981-1992
Laurie Sundborg 1992-1995
Barry Hensley 1995-2004
Zarrow Regional Library Managers
Barry Hensley 2004-2017
Ellen Cummings 2017-2022
Kelly Bayles 2022-Present