Contact:
Manager/Coordinator:
Sarah Dawson
Phone: 918-549-7323

Services: 
WiFi
Wireless printing
Checkout laptop for in-library use
Public Access Computers
Meeting Room(s)
Bike Locks
Public Fax, Scan, & Copy
Hours
Monday:
10:00 am to 6:00 pm
Tuesday:
10:00 am to 8:00 pm
Wednesday:
10:00 am to 6:00 pm
Thursday:
10:00 am to 8:00 pm
Friday:
10:00 am to 6:00 pm
Saturday:
10:00 am to 5:00 pm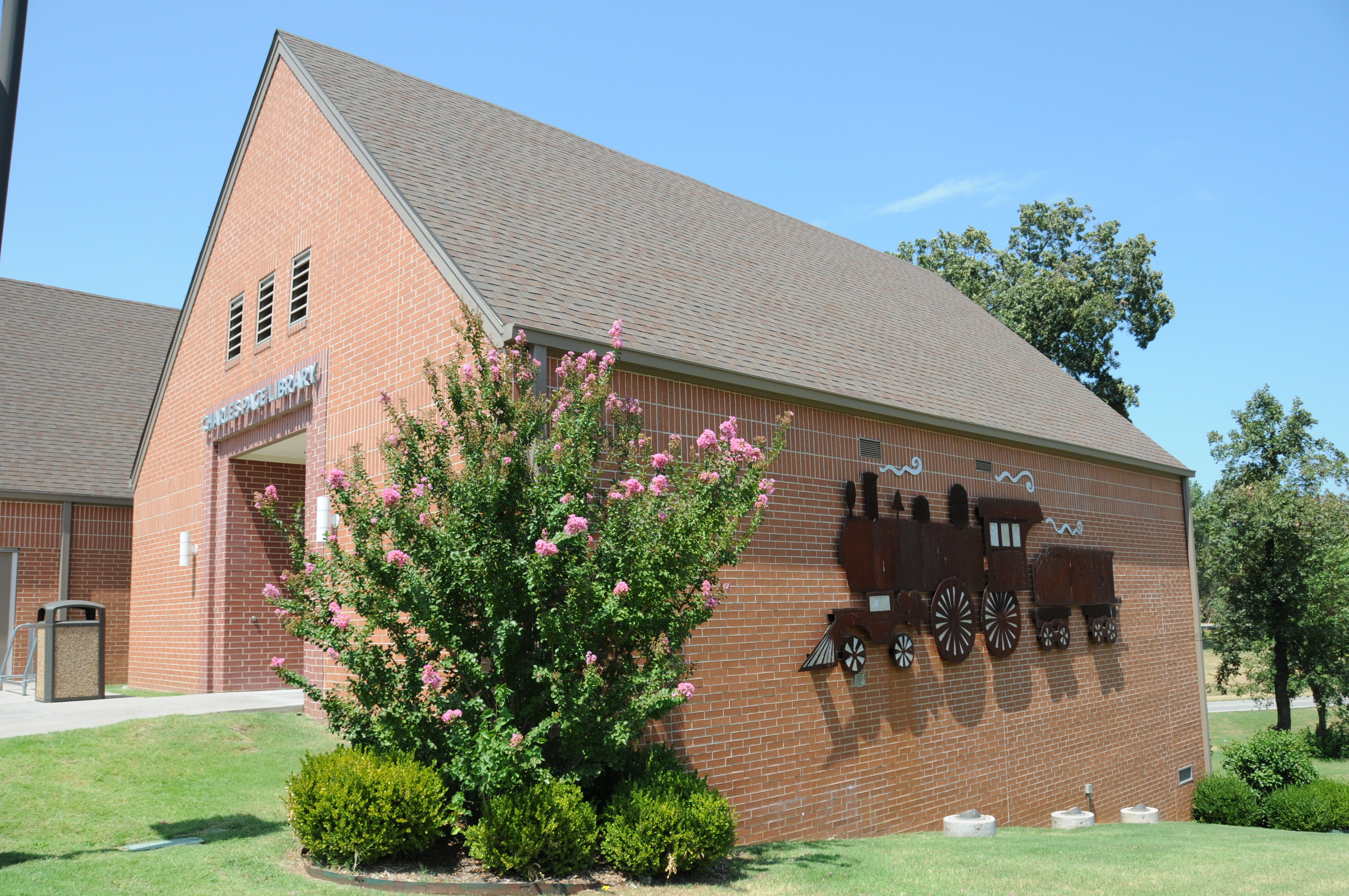 The Charles Page Library provides an exciting mix of sophisticated technology and good old fashioned, laid back customer service. It is a welcoming environment that includes comfortable places, a meeting room and great children's programming. C'mon down!
For the computer user, the Charles Page Library has 9 computers and checkout laptops for in-library use.
There is 1 meeting room which holds 70. Click here to request a meeting room.
The sculpture of the train on the outside of the building symbolizes the Sands Springs railroad line founded by Charles Page. It was created by Lisa Regan.  
More Information
Charles Page Library History
The first library in Sand Springs was started in 1920 by the Sand Springs Women's Club, and was opened April 1921 in the City Hall with 500 donated books. The city took it over and supported it for many years by appropriation of city funds. On February 27, 1930, the Page Memorial Library was dedicated as a gift of Mrs. Lucile Page in memory of her husband, Charles Page. The cost of building and furnishing the library and supplying it with a collection was about $100,000. Special features of the art deco type building at the corner of Broadway and Main in downtown Sand Springs are its bronze doors, banisters, memorial window, and memorial plate done by Ralph Watkins of Chicago. The architect, Mr. Otis Floyd Johnson, of the Lorado Taft Studios in Chicago, was a specialist in memorial architecture. The walls are of haydite blocks and the outside is covered by stucco. It was designed as a two story building with entrance walls of St. Genevieve (Italian) marble and lobby floors of Tennessee pink marble. The unique bronze lamps and lighting fixtures cost $5000 and were done by the Empire Chandelier Company of Sand Springs.
This two-story building was leased to the Tulsa City-County Library System when the system was started in 1962 and continued to serve as the downtown community's library for many years. It was an outstanding building with 7,400 sq. ft, 40-ft. ceilings and marble stairways, but toward the end of the 20th century, it became difficult to deliver the services desired by staff and customers, even with the addition of an elevator in the 1980's to increase accessibility.
The Sand Springs Home was approached about providing a suitable site for a new building which could more easily house a one-story, easily accessible library, and they offered a long-term lease for a location across from Charles Page High School at 551 E. 4th St. The System built a new 5,300 sq. ft. brick building in the wooded setting in 2001 and named it the Charles Page Library. The Page Memorial building reverted to the City, its purpose to be a local history museum.
Laura Mae Barnes served as the librarian of Page Memorial Library from 1962 to 1981. Diane Rice and Peggy Wolfe served during 1982 and 1983. Lana Voss was the librarian for 10 years starting in August, 1983. She was followed by Mary Lou Divelbiss, and Mark Carlson became branch manager in 2008. Sarah Dawson is the current branch manager and started in January of 2022.