Contact:
Manager/Coordinator:
Rebecca Howard, MLIS
Phone: 918-549-7323

Services: 
Hispanic Resource Center
WiFi
Wireless printing
Checkout laptops for in-library use 
Public Access Computers
Meeting Room(s)
Spanish-speaking staff / Personal bilingüe
Book Club
AWE Early Literacy Computer
Bike Locks
Audio Induction Looping, Auditorium Access
Public Fax, Scan, & Copy
Build A Reader Center
Business Center
FedEx Drop Box
After-School Homework Club
Hours
Sunday:
1:00 pm to 5:00 pm
Monday:
9:00 am to 9:00 pm
Tuesday:
9:00 am to 9:00 pm
Wednesday:
9:00 am to 9:00 pm
Thursday:
9:00 am to 9:00 pm
Friday:
9:00 am to 6:00 pm
Saturday:
9:00 am to 5:00 pm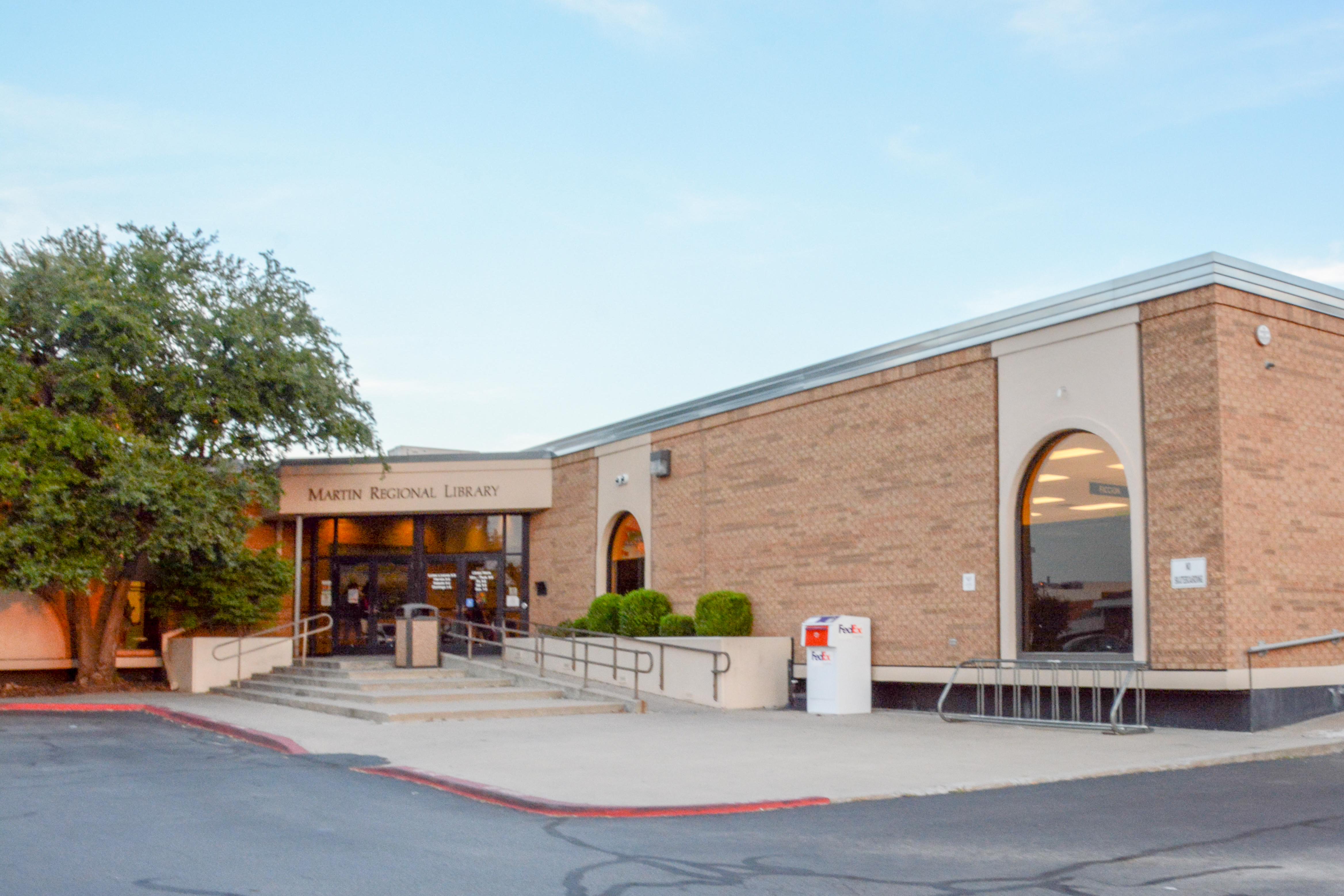 Located at 26th and Garnett, the Martin Regional Library a vibrant community center for all of east Tulsa. The library offers bilingual storytimes, a large family play area, three meeting rooms, and individualized technology instruction through our Book-a-Librarian program. Spanish-speaking staff are available to assist customers at any time the library is open. 
200 parking spaces accommodate large meetings held in the auditorium which seats 200. The Lecture Room has space for 75, and the Conference Room holds 25. These community meeting rooms also have shared kitchen facilities and sound/video capabilities. Online Request for Meeting Room
The Hispanic Resource Center (Centro Hispano) is located inside the Martin Regional Library and contains thousands of Spanish language books, DVDs, and magazines. 
More Information
Martin Regional Library History
Two important events occurred in Tulsa in 1949. The first – the introduction of television – would have long-term national and international impact. Of more immediate significance to the Tulsa library was the arrival of Allie Beth Martin, an energetic woman who held a library science degree from Columbia University. She had worked in several library systems before moving to Tulsa with her husband Ralph, a physician, and their daughter Betsy.
On January 1, 1963, she was appointed acting director and nine months later she became the first director of the Tulsa City-County Library system. As such Allie Beth Martin occupied a role of leadership, not only locally but in national cultural and library affairs. She served on the advisory board of the National Endowment for the Humanities and in 1971 was named coordinator of the "Goals of Public Library Service" sponsored by the American Library Association and jointly funded by the Council of Library Resources and the National Endowment. She also served as President of the American Library Association, a unique honor among librarians.
The library profession and Tulsa community were shocked and saddened when she became terminally ill and passed away in April 1976. The second regional library, at 2601 S. Garnett, was dedicated as the Allie Beth Martin East Regional Library on August 1, 1976. The square footage for the building was 18,165, the shelving capacity housed 50,000 volumes and the cost for the facility was $675,865.
The words on the memorial plaque described Mrs. Martin's long service to the community:
Allie Beth Martin dedicated her life to the development of modern library service, focusing on the public library as a center for community education, information, culture and recreation. Her achievements as a community leader, a humanist, an educator, an author, an advocate of the arts and as 1975-76 president of the American Library Association reflect that impact.
In 2002, the Martin Regional Library was expanded to 29,425 square feet. The shelving capacity increased to hold 125,000 volumes and over 50 computers were made available to the public. A new story time room was added which housed two castles, a moat and cloud mobiles. The Hispanic Resource Center and children's area were expanded and a Learning Center, Computer Lab, study rooms and teen area were added.
Martin Regional Library currently serves as the site for the Asian-American Festival held annually in June. Ongoing programming includes Book-a-Librarian appointments (in English and Spanish),  Anime club, Lego Lab, Build-a-Reader storytimes, and Build-a-Reader parent workshops. 
Martin Regional Library Managers:
1976-1984: Marjorie Hooker
1984-2004: Christine Chilton
2004-2007: Theresa Fowler
2007-2017: Amy Stephens
2017-present: Rebecca Howard 
Martin Regional Library After-School Homework Club
The Martin Regional Library is an After-School Homework Club location.  The club offers free one to one homework assistance for students in grades 3-8.  Registration for the club is required and more information can be found on the After-School Homework Club page.
At the Martin Regional Library, the club runs Mondays through Thursdays, 5-7:30 p.m.   
Martin Regional Library Book Club
Martin Regional has a book club for adults that meets on the second Wednesday of each month at 10 a.m. For book selections, check the library's event guide or contact us at 918-549-7323.