Contact:
Manager:
Barbie Benson 
Phone: 918-549-7323

Services: 
WiFi
Wireless printing
Checkout laptops for in-library use
Public Access Computers
Meeting Room(s)
Spanish-speaking staff / Personal bilingüe
Bike Locks
Public Fax, Scan, & Copy
Build A Reader Center
Business Center
Hours
Monday:
10:00 am to 8:00 pm
Tuesday:
10:00 am to 8:00 pm
Wednesday:
10:00 am to 8:00 pm
Thursday:
10:00 am to 8:00 pm
Friday:
10:00 am to 6:00 pm
Saturday:
10:00 am to 5:00 pm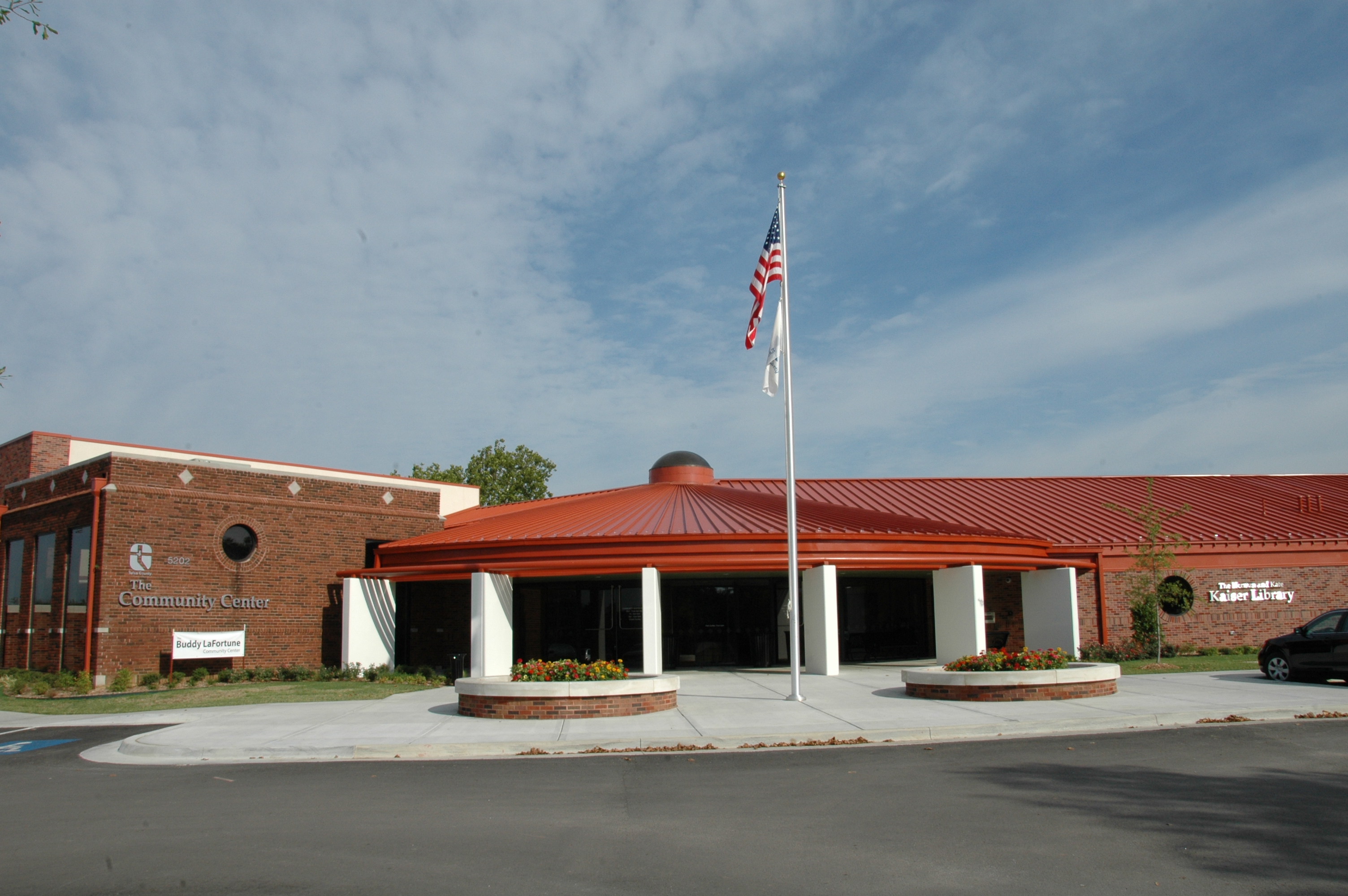 The Herman & Kate Kaiser Library is located in LaFortune Park. The 10,000 square foot library features a meeting room with a seating capacity of 20, shelving for 50,000 books, 13 public computers, an inviting children's area with window seat, dragonfly inlays in the flooring, a fireplace for cozy reading and large windows with views of the surrounding park. WiFi is available throughout the building.
Herman & Kate Kaiser Library is home to several unique art pieces: Bronzes "On the Road with Mother Goose" by Diane Mason and "Rabbit Tales" by Georgia Gerber in the outdoor sculpture garden; bronze sculpture "Okie Cowboy" by John D. Free in the lobby; bronze busts of Herman and Kate Kaiser by sculptor Rosalind Cook; three oil paintings by artist Annette Ellis; and "Trumpeter Swan on Nest with Cygnets" painted by Alice Lindsay Price.
The library shares a lobby with the Buddy LaFortune Community Center, a Tulsa County Parks venue. The community center is 14,000 square feet and was funded with Vision 2025 tax dollars.
More Information
Herman & Kate Kaiser Library History
Herman and Kate Kaiser
Herman George Kaiser (1904-1992) and Kate Kaiser (1910-1987) fled Nazi Germany in 1938, going first to England and then to the United States. Their immigration was made possible by their Uncle Sam Miller who sponsored their journey to Tulsa in 1940. Without bitterness or self-pity, they worked diligently to become productive citizens, and determined to give back to the nation and city that embraced them in their time of need. The Tulsa community remembers Kate as a hands-on volunteer at the Center for the Physically Limited, and Herman for his leadership as President of Congregation B'nai Emunah. Along with countless philanthropic contributions, Kate and Herman gave limitlessly of themselves. They serve as profound examples of the reciprocal spirit we hope defines our nation and community. Bronze busts of Herman and Kate Kaiser, by local sculptor Rosalind Cook, are prominently displayed inside the library.
Donor Funded Facility
The library was completely donor funded through a Tulsa Library Trust Capital campaign. The Herman and Kate Kaiser Foundation funded 51% of the $2.4 million cost. Other major donors are: Robert J. LaFortune, H.A. and Mary Kay Chapman Trust, Hille Foundation, The Tulsa World, Broadhurst Foundation, Adelson Family, Schusterman Family Foundation, Henry Zarrow, Don and Rita Newman and Irv and Sharna Frank, Calumet Oil Company, Sol Robinowitz Foundation, Paul Woodul Family, Waters Foundation, Barnett Family Foundation, Coretz Family Foundation, Moran Family Foundation, Temple Foundation, Lorene Cooper Hasbrouck Charitable Trust, Sanford and Irene Burnstein, Keith and Beth Goddard, Sam Vierson Family Foundation and Hal and Rosalind Cook. In addition, donors who contributed $100 or more are listed on the wall of honor in the lobby of the building.
History
A neighborhood storefront library on the corner of 51st Street and Memorial Drive opened for operation in May of 2002. The 4,800 square foot facility was a temporary location.
On February 2, 2006, Groundhog Day, an event was held on the site honoring major donors to the project. Students from Key Elementary and the Memorial High School band provided music.
The official groundbreaking ceremony was held on August 23, 2006.
The building architects were Larry Edmondson and Associates, Inc.. Library interiors were coordinated by Kinslow, Keith and Todd, Inc. The contractor was Oakridge Builders, Inc. The building opened on June 23, 2008 and the dedication ceremony was on August 6, 2008.