Contact:
Manager/Coordinator:
Emily Archibald
Phone: 918-549-7323
Services: 
Genealogy Center
WiFi
Wireless printing
Checkout laptops for in-library use
Public Access Computers
Meeting Room(s)
Bike Locks
Audio Induction Looping, Auditorium Access
Public Fax, Scan, & Copy
Build A Reader Center
Hours
Sunday:
1:00 pm to 5:00 pm
Monday:
9:00 am to 9:00 pm
Tuesday:
9:00 am to 9:00 pm
Wednesday:
9:00 am to 9:00 pm
Thursday:
9:00 am to 9:00 pm
Friday:
9:00 am to 6:00 pm
Saturday:
9:00 am to 5:00 pm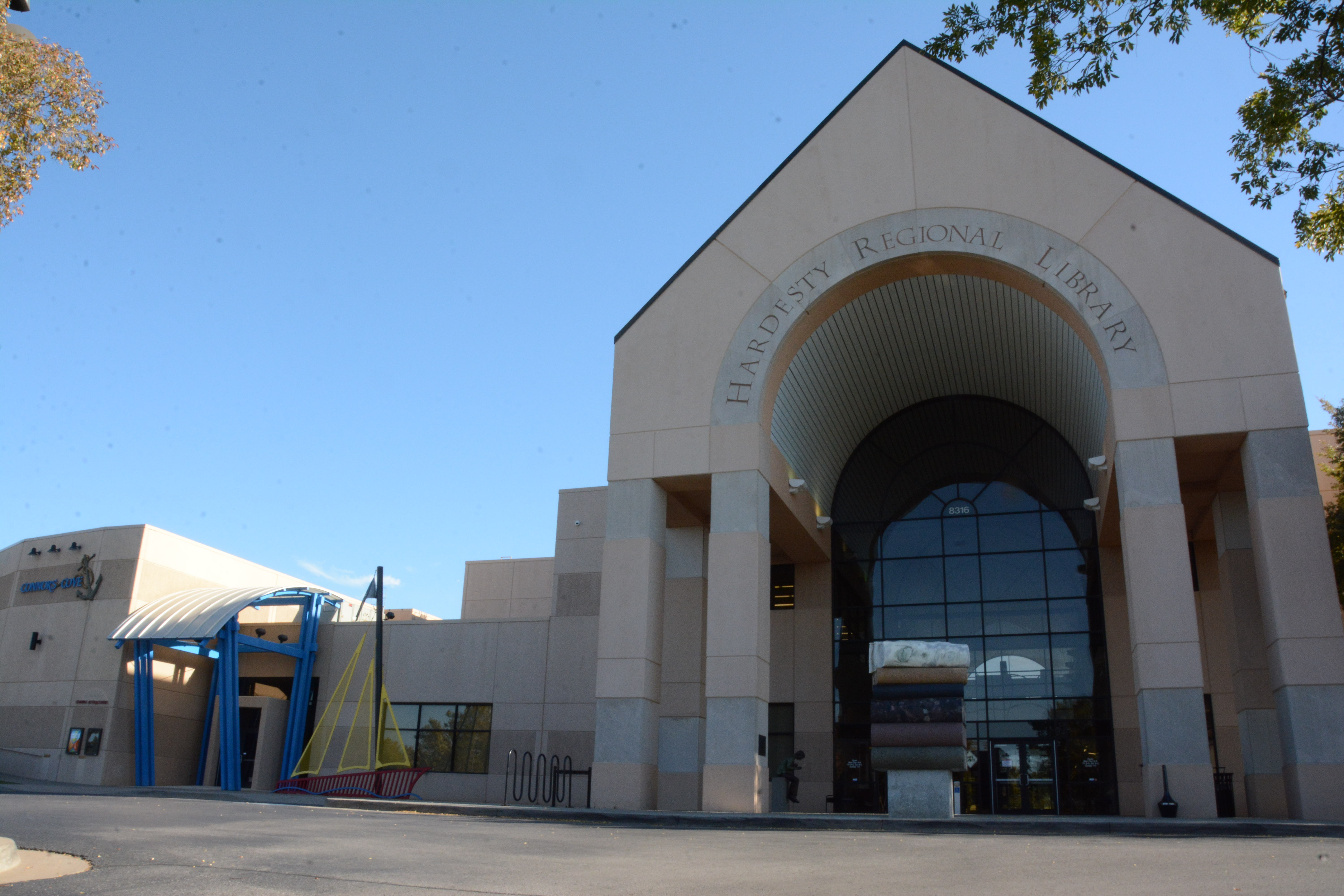 The Hardesty Regional Library is a 50,000-square-foot, 2-story building located in the heart of South Tulsa, just minutes away from Woodland Hills Mall, plus four local school districts (Union, Jenks, Bixby, and Broken Arrow). Conveniently located right off the Creek Turnpike, Hardesty serves as a hub for the libraries in the southern part of Tulsa County. It includes 2 conference rooms, 2 meeting rooms and Frossard Auditorium, all of which are available to nonprofit, educational, and civic organizations. Businesses can also request these rooms for employee training. 
Request your meeting room online!
Hardesty Regional Library is also the home of Connor's Cove Children's Theater, which features a nautical theme, seats 420, and hosts a variety of family-friendly programming, including musical groups, puppet and magic shows, and author visits. Check the library's event guide for upcoming Connor's Cove events!
More Information
Hardesty Regional Library History
In 1964, The Woodland View Library opened in a strip center at 61st & Lewis with Pat Woodrum as the Librarian. Ten years later she became the System's Director. It was a popular branch from the very beginning, although it was small and had little room for programs. Pat Dorman became the Librarian in 1965, followed by Dusty Wade in 1967, Susie Herwig in 1970, Mary Ann Cozad in 1976, Lisa Plumly in 1977, and Rosemary Moran in 1982. It closed that year at the same time the newly-built South Regional Library opened. The South Regional was built on a 3-acre site at 6737 S. 85 th East Ave. donated to the System by developers of Woodland Hills Mall. Designed by Coleman-Irwin, it was the largest of the branches at 18,300 sq. ft. It had 3 meeting rooms, an auditorium, and a large open area for books. It was very heavily used from the first day. In the summer of 1984, Roger and Donna Hardesty made a $600,000 donation to complete a match for a $250,000 National Endowment for the Humanities grant. In recognition, the South Regional was renamed the Hardesty South Regional Library. In 1991, it was expanded to 21,800 sq. ft. to accommodate more book stacks and a small lounge area. Still inadequate to meet the needs of Tulsa's fastest growing area, the system promised to enlarge the building as part of the 1998 Bond Issue. Shortly after planning began; it became obvious that it would not be possible to double the size of the building and the parking lot in the space available. The Hardestys generously offered an 8-acre site at 93 rd & Memorial in January, 2001, a huge help in furthering efforts to build a new library. The Tulsa Library Trust raised $1,200,000 to augment the 1998 Bond funds available, and architects from ISD designed a 50,000 sq. ft. 2-story building which opened in May 2003.
Hardesty Regional Library Book Club
LitWits' Book Club
Hardesty's book club is for adults ages 25 and up. Selections are voted on by the club at the end of every year for the following year and include multiple genres, such as fantasy, science fiction, mystery, thriller, historical fiction, young adult fiction, nonfiction, and graphic novels. Reading suggestions accompany the book selection each month.