Contact:
Manager/Coordinator:
Sherrie Wallace
Phone: 918-549-7323

Services: 
WiFi
Wireless Printing
Public Access Computers
Meeting Room(s)
Spanish-speaking Staff / Personal Bilingüe
Sista' Chat Book Club
AWE Early Literacy Computer
Bike Locks
Public Fax, Scan, & Copy
Business Center
Seed Lending Library
ASL Communicating Staff
Hours
Monday:
10:00 am to 6:00 pm
Tuesday:
10:00 am to 6:00 pm
Wednesday:
10:00 am to 6:00 pm
Thursday:
10:00 am to 6:00 pm
Friday:
10:00 am to 6:00 pm
Saturday:
10:00 am to 5:00 pm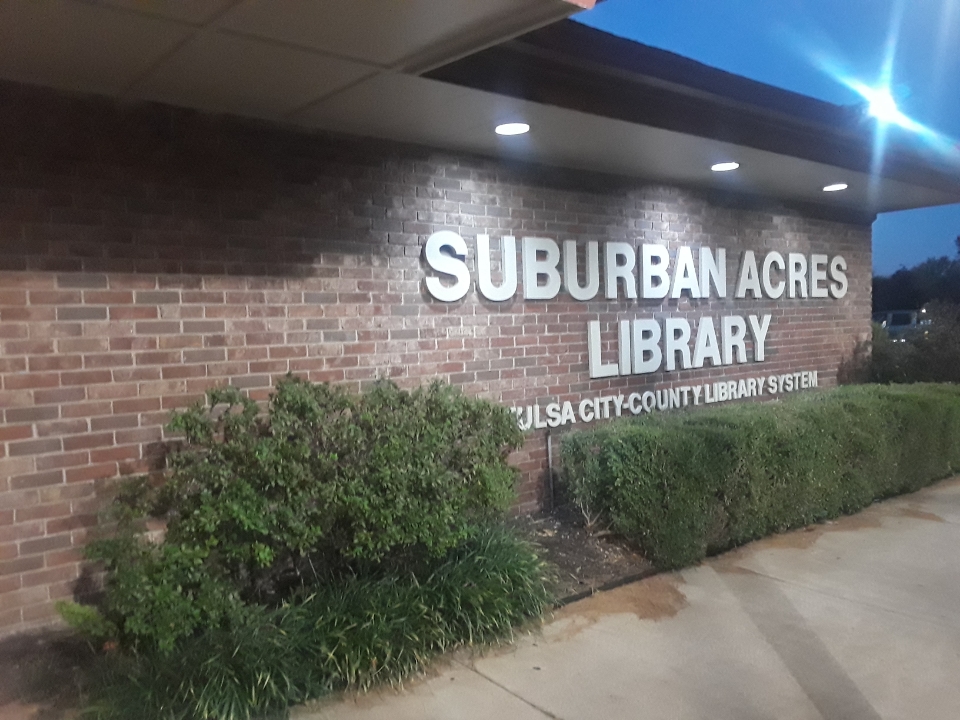 For the computer user, Suburban Acres has 17 computers.
There is one meeting room that accommodates 50 chairs.
The walls of the library are accented with Kente and Adinkra fabrics and groupings of traditional carved masks and artifacts from several African countries.
Fireplace & Lounge Area
Designated Teen Area
More Information
Suburban Acres Library History
As one of the most recognized buildings in the area, the Suburban Acres Library remains a much appreciated and relevant neighborhood attraction for its residents. With just 4,200 square feet to house its collection and a 99-year lease with Tulsa Public Schools, the Suburban Acres Library opened the doors in 1963. Within the community, the Suburban Acres Library is viewed as a safe place for neighborhood children, youth, and families and is considered a necessary resource for its nearby residents. In 2019, the Tulsa Learning Academy (TLA) relocated into the vacated McLain 7th Grade Center just west of Suburban Acres Library. Previously located in the Promenade Mall, TLA is an online/on-site project-based learning program for ninth (9th) grade students. TLA has future plans to add grades through 12th grade. In 2020, Still She Rises becomes a new neighbor to the Suburban Acres Library. Still She Rises is a non-profit focused on assisting low to no income women with legal issues; offices will be housed in the Gibbs New Leasing shopping center.
In early years of operation the Suburban Acres Library was one location that headquartered the Bookmobile. Librarians at Suburban Acres Library include Helen Norvell, Juanita Bryden, Ina Lee Weathers Mullings, Beverly Hogan Joyce, Angeline Welch, Linda Bayley, Ruby Duckett, Marilou Marler, Mark Goetz, Ava Nurse, and Sherrie Wallace (current manager).
After 35 years of valued service, the library received a much needed renovation and expansion thanks to the successful passing of the countywide bond in 1998. During construction, the library served customers from a temporary site in the Gibb's Shopping Center. After nine months of construction work, the newly renovated building re-opened to an excited community. With an additional 2,500 sq. ft., bright paint colors, and African inspired art and wall hangings, the library makes a bold statement to the customers that use the building. A new meeting room, fireplace, main entrance, additional computers, parking and restrooms made the Suburban Acres Library a jewel in a very appreciative community. In 2008-2009, additional improvements introduced a new lobby, totally renovated restrooms and an updated look to the paint scheme inside the building. The new colors brought more warmth and a more inviting atmosphere to the building which is the feel that the Suburban Acres Library strives to offer community residents. In 2012 & 2015, the Suburban Acres Library introduced to library user's self–service equipment that allows for no wait service. The spring of 2012 was the perfect time for an addition of outdoor seating with a bench installed for customers to enjoy. In November 2013, Suburban Acres Library celebrated their Centennial year with a celebration commemorating 50 years of service to their valued customers. Suburban Acres Library transitioned to the new Zone Service Model in early 2017.  Customers and staff alike appreciate the ongoing growth and upgrades to the building. The future looks bright for the community, its residents and Suburban Acres with library staff determined to continue offering services valued and appreciated by those served.
Suburban Acres Library Book Club
Sista' Chat Book Club meets every other month with breaks during the summer months unless requested to meet. Call 918.549.READ for more information.
Suburban Acres Library Seed Library
Suburban Acres Library has introduced a new concept in library services to Tulsa County library users and are now one of nine Seed Libraries in the city. There are seed packets available for check at these library service desks with a limit being 5 seeds per check out. Seed packets will rotate bi-annually to accommodate the season. Seed packets can be requested and routed to any library in the system for pick up.