Contact:
Manager/Coordinator:
Sara Martinez
Phone: 918-549-7323
Services: 
WiFi
Wireless printing
Checkout laptops for in-library use
Public Access Computers
Meeting Room(s)
Spanish-speaking staff / Personal bilingüe
AWE Early Literacy Computer
Bike Locks
Recycling
Public Fax, Scan, & Copy
Business Center
FedEx Drop Box
Hours
Monday:
10:00 am to 6:00 pm
Tuesday:
10:00 am to 6:00 pm
Wednesday:
10:00 am to 6:00 pm
Thursday:
10:00 am to 6:00 pm
Friday:
10:00 am to 6:00 pm
Saturday:
10:00 am to 5:00 pm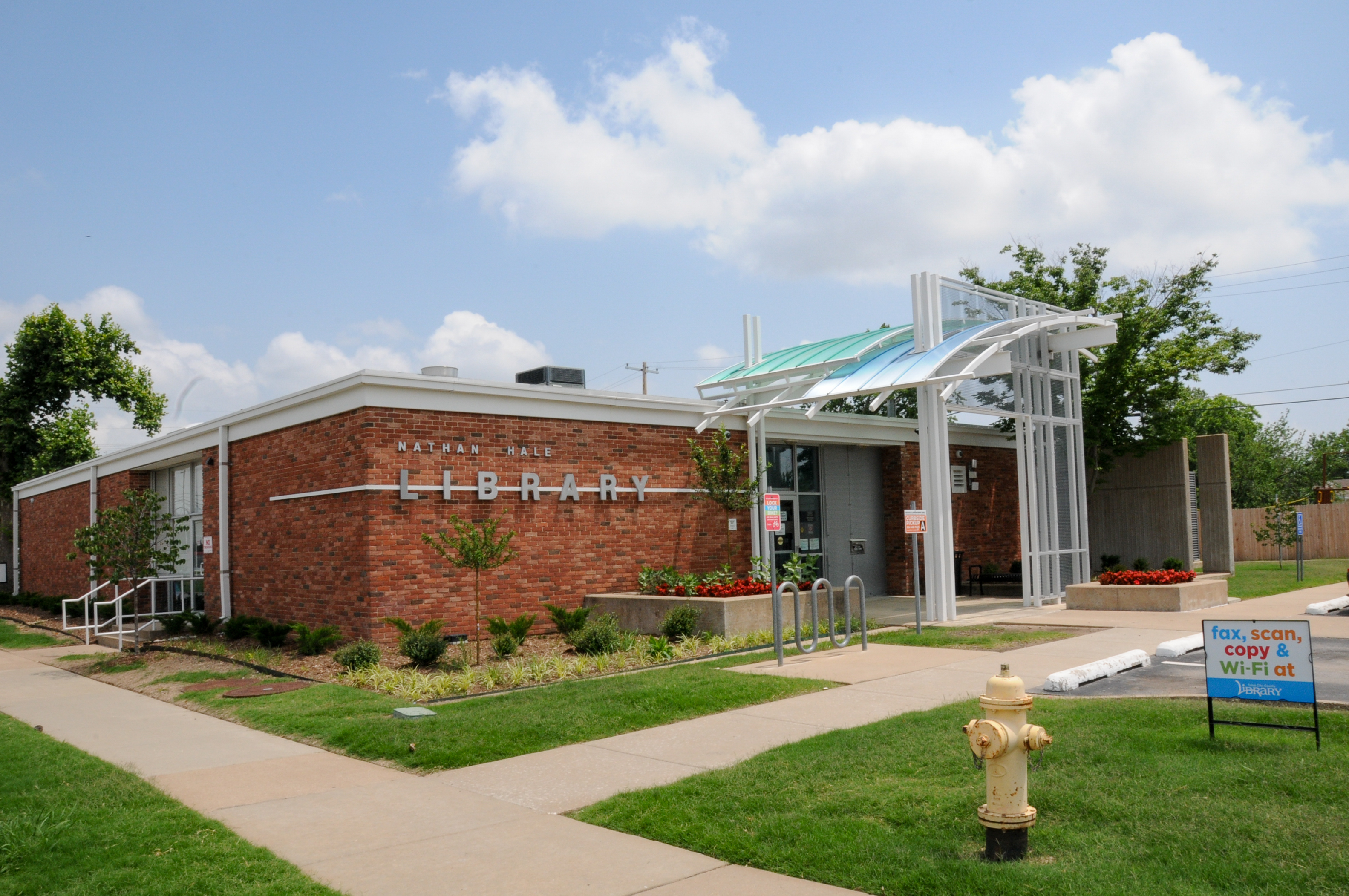 Perched at the edge of a small neighborhood in midtown Tulsa at 23rd and Sheridan sits the Nathan Hale Library designed by F. Allen Whiteside. At 4,882-square-feet, the Nathan Hale Library was the largest branch in the city when it opened in 1963.  Now it is the smallest - but one of the busiest - branches.
More Information
Nathan Hale Library History
Over the years the library has served its community well under the leadership of many librarians. The first was Lois Jones, appointed in 1963. Those serving short terms as librarian between 1967 and 1983 included Dusty Wade, Virginia Collier, Inalea Weathers, Marilyn Shackleford, Marjory Hooker, Rosemary Moran, Mike Rusk, Lola Todd and Sonia Long. Ann Gaebe managed the branch from 1983 to 1999, at which time Bobbie Bridgewood was appointed.
In 2001 the Tulsa City-County Library Commission proposed the relocation of the Nathan Hale Library to 51st and Memorial. Library administrators held several public meetings to announce their plans. An outcry was heard from the small community. Nathan Hale customers expressed how much they loved their small library. After listening to the community, library administrators withdrew the proposal and in 2002 proceeded with plans to renovate the library with funds received from the 1998 bond issue.
After undergoing a seven-month extensive renovation project that included a new parking lot and a new front entrance on the west side of the building, the vastly improved Nathan Hale Library opened its doors on January 2, 2003. Later that week, more than 500 eager, happy users attended the open house to check out the library's new look and celebrate the completion of the project.