Contact:
Manager/Coordinator:
David Nofire
Phone: 918-549-7323

Services: 
WiFi
Wireless printing
Public Access Computers
Checkout laptops for in-library use
Meeting Room
Book Club
Bike Locks
Public Fax, Scan, & Copy
Business Center
FedEx Drop Box
After-School Homework Club
Hours
Monday:
10:00 am to 8:00 pm
Tuesday:
10:00 am to 8:00 pm
Wednesday:
10:00 am to 8:00 pm
Thursday:
10:00 am to 8:00 pm
Friday:
10:00 am to 6:00 pm
Saturday:
10:00 am to 5:00 pm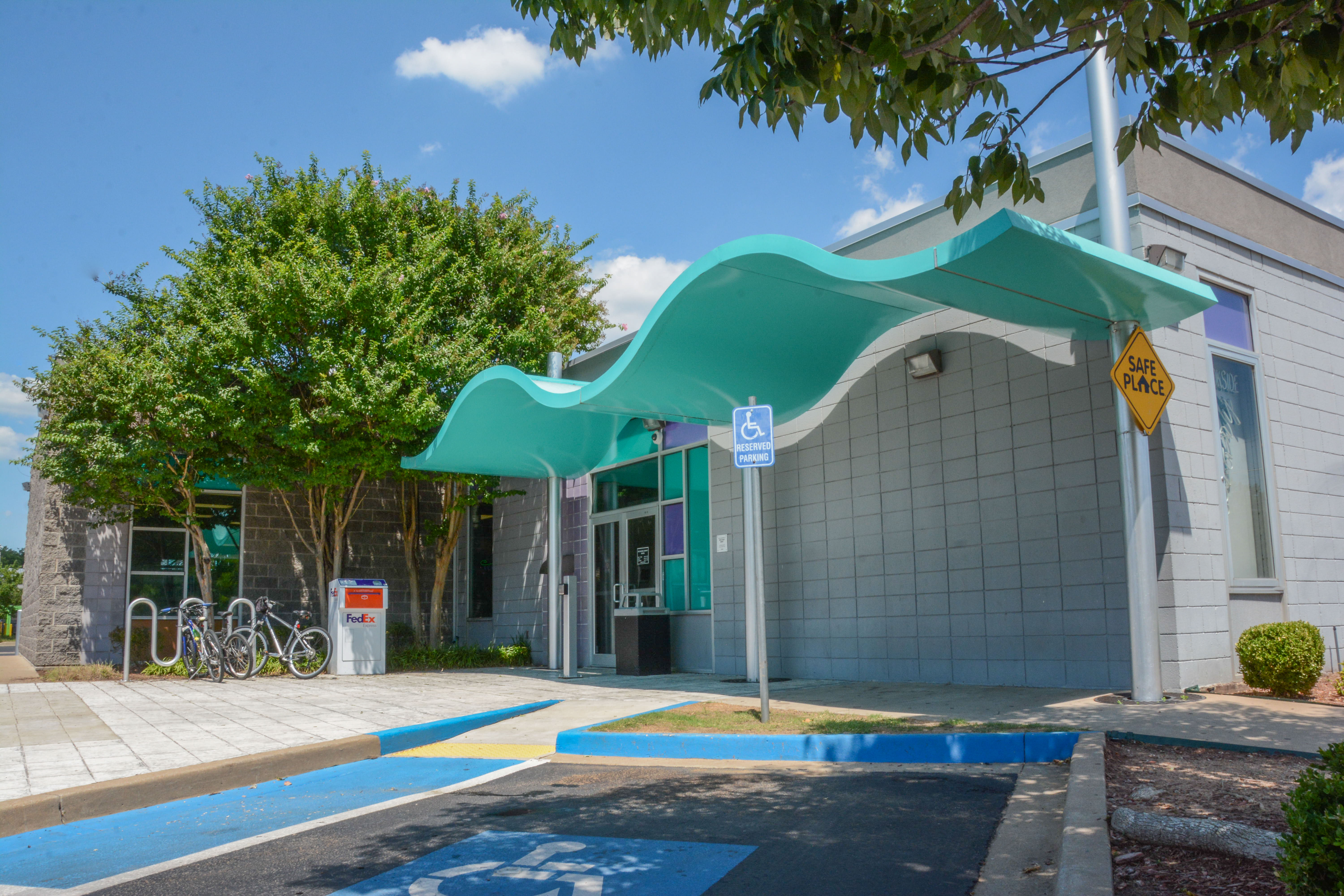 36.09853202081, -95.976606989233
Brookside Library serves a vibrant community in Tulsa's popular Brookside district, known for shops, restaurants, entertainment and family recreation at River Parks and the Gathering Place near the Arkansas River. Located at 45th Place and Peoria, Brookside features a variety of programs for all ages and is home to a unique collection of metal sculptures by Tulsa artist Lisa Regan.
For the computer user, Brookside has 16 public computers, 12 laptops for in-library use, strong WiFi, a WiFi bar, and comfortable chairs with USB ports. 
Brookside has one meeting room with a capacity of 50. Click here to request a meeting room.
More Information
Brookside Library History
"Something new is coming to Tulsa—a lively library" announced the Tulsa Sunday World when the Brookside Library opened on January 19, 1951 in a rented storefront facility at 3516 S. Peoria Ave. It was Tulsa's first branch library to be in the heart of a shopping center and "a colorful place designed to get the gloom out of library surroundings."
Due to strong neighborhood involvement in the Brookside area, many gifts were made to the new branch. The Garden Club Council requested space for a desk and telephone, as well as a gardening reference book area. This was the precursor for the Garden Center, which would later become a Tulsa landmark in its own facility further north on Peoria.
In 1962, Brookside Library moved into larger leased quarters at 1311 E. 35th St., just off Peoria. The new location added 700 square feet of space and provided more room for study space and group activities.
In May 1967, Brookside Library moved into its current location at 1207 E. 45th Pl. The 3200 square foot brick and glass building was built specifically for the library at a cost of $60,000 and leased from George Abdo. It was later purchased by Bill Ramsey. The building was almost three times larger than the previous location, but was soon one of the busiest branches in the system.
In 1998 Mr. Ramsey gave the Brookside Library building and surrounding land to the library system, and loaned $400,000 to enlarge the facility, more than doubling its size. The 7200 square foot facility opened in February 1999 with shelving for a collection of 32,000. Designed by Page-Zebrowski, it featured vibrant colors, a decorative canopy and clever metal cut-outs by Lisa Regan. It was embraced by the community immediately, and continues to be a lively library.
Brookside Library Managers
Helen Norvell 1951-1962
Lucile Wallace 1962-1967
Karen-Dale Tschudy 1968-1970
Dessie Buckner 1970-1990
Margaret Zapatos 1990-1991
Kathy Doss 1991-2013
Ellen Cummings 2013-2017
Kelly Bayles 2017-2021
David Nofire 2021-present
Brookside Library After-School Homework Club
The Brookside Library is an After-School Homework Club location. After-School Homework Club offers free one to one homework assistance for students in grades 3-8. Registration for the club is required and more information can be found on the After-School Homework Club page.
At the Brookside Library, the club runs Mondays through Thursdays, 3:30-6:00 p.m.   
Brookside Book Discussion
The Brookside Book Discussion group meets on the second Monday of each month at 1:30 p.m. If the second Monday falls on a holiday, the group meets the following Monday. Join us for interesting books and lively discussion! Please note that this program is for adults.
Brookside Library Programs
Build A Reader Storytimes
Baby & Toddler Storytime: Tuesdays at 10:15 a.m.
Preschool Storytime: Wednesdays at 10:15 a.m.
Both Storytimes are followed by Stay & Play.
PAWS for Reading
Elementary-school kids are invited to read their favorite books to a furry, four-pawed friend.
Registration is required.
Kid Zone
Monday, Wednesday and Friday 3-5 p.m. during the school year.
School-age students are invited to join us for crafts, movies, games and more!
Don't forget to check the monthly event guide or our Facebook page for other programs and events at Brookside Library.