Hours
Sunday:
1:00 pm to 5:00 pm
Monday:
9:00 am to 9:00 pm
Tuesday:
9:00 am to 9:00 pm
Wednesday:
9:00 am to 9:00 pm
Thursday:
9:00 am to 9:00 pm
Friday:
9:00 am to 6:00 pm
Saturday:
9:00 am to 5:00 pm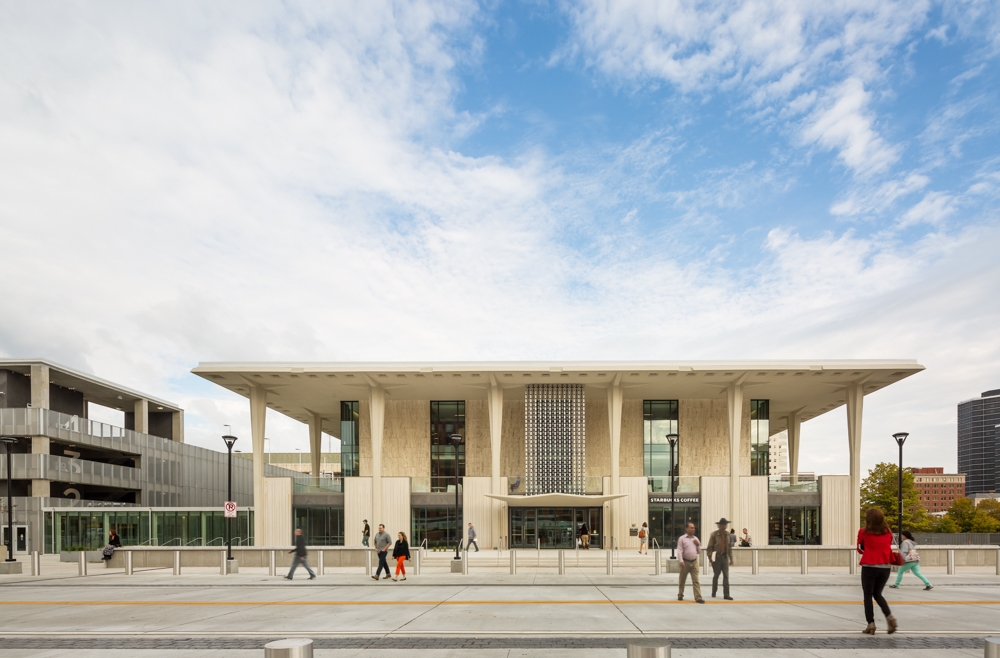 The Central Library, located in the heart of downtown Tulsa at Fifth and Denver, serves as a beacon for the Tulsa City-County Library by providing the support services for the entire system of 25 buildings.
The Central Library includes 16 meeting spaces: Aaronson Auditorium (seats 200), Children's Storytime Meeting Room (seats 52), Computer Lab (seats 31), eight small study rooms, four large group study rooms (each seats 10) and Future Lab (seats 127). Click here to request a meeting room.
The Central Library also features a Maker Space with 3-D printing station and a recording studio; a children's area with play stations and book bins for easy access; Digital Literacy Lab; Learning and Creativity Center; Children's Garden; Starbucks® coffee shop; among other features and amenities.
Laptops for in-library use are available from the checkout dispenser in the southeast corner on the 1st floor. There are 12 PCs and 12 Macbooks available with the Microsoft Office Suite as well as Adobe Photoshop, Lightroom, InDesign and Acrobat. Laptops check out for 2 hours.
A 143-space parking garage is available. Parking is free for the first two (2) hours for library & Starbucks customers and the full length of library classes or programs.
More Information
Central Library History
After several attempts to establish a library in Tulsa by women's clubs beginning in 1905, a group of citizens finally persuaded Andrew Carnegie, in 1912, to provide $35,000 to build a library if the city would provide a suitable site and $3,500 per year to maintain it. But the election for local support failed. A book shower brought in 800 donated volumes for a temporary library. In December, 1912, Miss Alma Reid McGlenn of Pittsburgh, PA, accepted the position of Librarian. She arrived in January, l913, and the first formal library opened in the basement of the Court House on March 1. By the end of the month 646 people had applied for cards and 2,150 books were checked out.
In 1914, Mr. Carnegie agreed to provide $55,000 and this time, local funds were available. James Hawk was named architect, and construction began shortly thereafter. The laying of the cornerstone for the new Carnegie Library was held October 9, 1915, with much ceremony. The building was designed to hold 50,000 books, but it opened on April 16, 1916, with only 4,000 books on those shelves. By 1920, the book inventory totaled 17, 513.
By 1921, the staff had grown to six and by 1924, it totaled 13. In 1923 she convinced the library board to initiate a program to provide "stations" within the schools. The first one was in Celia Clinton School in West Tulsa. It proved to be so successful that Lowell, Kendall, Jefferson, Emerson, Whittier, Lee and Mark Twain elementary schools installed stations the following year.
In 1927, ALA listed Tulsa among the top 10 U.S. cities with highest circulation of nonfiction materials. That same year, an editorial writer called for a new central library, noting that the Carnegie building had many flaws including low light levels and heavy metal doors. Despite its shortcoming, by 1929 there were 73,437 books and a total circulation of 474,131 items.
In 1939 Miss McGlenn retired and James E. Gourley was named Librarian. The War caused many changes in Tulsa, including the Library, which was fighting for its budgetary life. James Gourley entered the Navy as a Lieutenant in the autumn of 1942, and Helen G. Ware was named acting director until his return. For several years very little was spent on new books.
In 1950 a consultant recommended that a new central library and several branches be built. Through the latter part of the 1950's there was a debate over whether or not the library could be housed in the old Court House at 6th & Boulder. The idea was dropped once it was determined that it would cost $1,000,000 to do the renovations needed. But all the talk about the library situation spurred action by a group to secure separate funding for the Library, and the new Civic Center gained popularity as a possible site.
In November, 1961, Tulsa County voters approved a bond issue to build a new central library and three branches plus a 1.9 mill levy for funding the system. Charles W. Ward and Joseph Koberling were named as architects, and in the summer of 1965, the new 135,000 sq. ft. library opened with a grand ceremony including Governor Henry Bellmon, Mayor James Maxwell, and James Webb, Director of NASA. When it opened in 1965, Central Library was the finest example of a contemporary library. People traveled from all over the nation, as well as from several countries around the world, to see this library built for the future.
After nearly five decades of heavy use, the well-loved, well-used Central Library building was worn and its systems were at the end of their life expectancy; its mechanical and energy components were outdated and run-down. Built at the dawn of the computer age, this once-grand facility was without a technology infrastructure to meet the technology needs of current as well as future customers. In 2011, after years of exhaustive study, the Tulsa Library Trust embarked upon an unprecedented opportunity to renovate and make the Central Library viable for future generations. The Tulsa City-County Library hired the renowned library architecture firm of Meyer, Scherer & Rockcastle, Ltd., along with local architects Crafton Tull and construction manager Flintco, to reimagine the Central Library. After being closed for three years for a $55 million total renovation, the renewed Central Library reopened on October 1, 2016, rejuvenated to meet the needs of the 21st century customer, and as a place for people to create, collaborate and convene. The Central Library Renewed renovation was funded by $25 million from public funds and $30 million from private donations.