PAWS for Reading promotes reading and communication skills by allowing children to read aloud to a registered therapy dog. Each child gets a special time to read and interact with one of these furry friends.  
How to participate:
Children must be 5-12 years old or able to read independently.
Preregistration is required as each child will be given a specific time to read.
Children should wait in designated area until it is their turn.
Parents/guardians are welcome to observe from a nearby designated space.
Please be gentle with our dog volunteers and follow the instructions of the person accompanying the dog and library staff.
Parents/guardians may take pictures after the child reads, but we request that the reading experience be free of interruptions.
Each child who participates will receive a free book, provided by the Tulsa Library Trust.  Ask your librarian about future PAWS for Reading events and other programs at your library.
Upcoming PAWS Events:
Content
Literacy Information for Parents
Emergent Readers (typically 3-6 years old)
These young "almost" readers show interest in books and may be able to recognize some words. They like to talk about pictures in books and sometimes make up stories that go with them. In general, they understand that print communicates messages. However, they do not fully grasp how to decode text into sounds and sounds into words with meaning.
How PAWS for Reading Helps Your Emergent Reader
Because reading to a therapy dog is fun for most kids, PAWS for Reading communicates to your child that reading is a joyful activity that should be repeated. Research also shows that spending time with animals (particularly dogs) reduces anxiety and boosts feel-good hormones, which should benefit your child when he or she begins the sometimes-difficult process of learning how to decode and make sense of written text.
What You Can Do To Support Your Emergent Reader
Read aloud to your child every day!

Even if it is only 10 or 15 minutes per day, this special reading time together builds background knowledge and vocabulary and lets them know that you value reading.  

Help your child select familiar books to "read" to the dog

. Books that your child already knows from repeated read-alouds with you are good candidates for PAWS for Reading sessions for emergent readers.

Focus on meaning

. Unless the book has few words, your emergent reader won't be able to read every word in a book. That's OK! Let your child know that the dogs love hearing stories even when they are not perfectly read.
Learning to Read (typically ages 5-7 years old)
Learning to read involves developing a complex and sophisticated web of skills, including translating print into sounds and sounds into reading (decoding) as well as making sense of concepts, ideas, and narratives (comprehension). Beginning readers' brains are working hard! Not only must they sound out d-o-g, they must connect that to what they know about dogs.
How PAWS for Reading Helps Your Beginning Reader
In the beginning, reading involves using so many different skills simultaneously. Because of this, learning how to read can be a difficult and frustrating process. Reading motivation is particularly important for this reason! (Think about it: don't you spend more time and effort on the things you are motivated to learn?) PAWS for Reading is highly motivating to most beginning readers because dogs are enthusiastic and sympathetic listeners – and so happy to be with your child!
What You Can Do To Support Your Beginning Reader
Help your child "sound out" words by giving clues.

When your child is practicing reading, give short clues about sounds: "In this word, 'C' has the sound like s-s-snake." You can find excellent, short phonics lessons at

www.freereading.net

.

…but don't get stuck in the phonics wilderness.

Remember that reading, particularly as your child gets older, is about comprehending what the words represent. When you spend too much time on sounds, meaning is lost.

Keep reading aloud to your child!

Just because your child is beginning to be able to read to him or herself doesn't mean they won't benefit from you continuing to read to them every day.

Model asking questions and making predictions during reading.

As you are reading aloud, stop to ask questions as well as make predictions about the characters and plot. You are demonstrating to your child how to read at a higher level.
Reading to Learn (typically 8+ years old)
Around 3rd or 4th grade, children should start to turn from "learning to read" to "reading to learn." This is when the mechanics of word decoding is not as important as understanding the larger meanings of written texts. These readers enthusiastically turn to books for information about a variety of topics, from bugs to airplanes to how to fold origami.
How PAWS for Reading Helps Your Reader
At this point in your child's reading development, cultivating "fluency" is important. A fluent reader is one who can easily and smoothly read sentences with appropriate phrasing and intonation ("reading like you talk"). PAWS for Reading supports fluency by reducing anxiety in a child related to reading and giving him or her the opportunity to practice reading fluidly and with expression.
What You Can Do To Support Your Reader
Encourage in-depth learning about a topic before reading.

The more background knowledge your child has about a topic before reading a book about it, the more he or she will "get" from reading. Spend some time talking about a subject as well as previewing pictures before your child reads. 

Pay attention to what your child is studying in school.

Get books and magazines from your library branch related to the subjects your child is studying. This will help build background knowledge and make textbook reading easier.

Make read-alouds a family affair!

Your child is now ready to start contributing to your family read-alouds. Read a page or two and then ask your reader to read the next paragraph.

Let your child choose what to read

. Research shows that children who have a free choice of what to read are more likely to read longer and with more attention. Take your child to the library often to browse and select books to read.
Meet the PAWS dogs
Ab
Ab
Breed: Saint Bernard
Library:
Human Helper: Bob Trunk
Ab is a Saint Bernard born in 2010 who really likes everyone and all dogs as well. Ab is trained in Obedience, Rally, and is currently training in Agility. He has also done weight pulling. Ab has completed his therapy dog certification and has visited nursing centers around Tulsa, including Cancer Treatment Center of America.
Cooper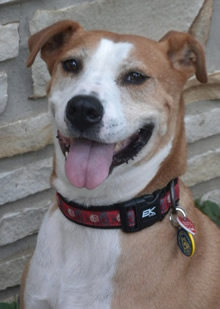 Cooper
Breed: Pit Bull Mix
Library: Charles Page
Human Helpers: Beth Sharp
Cooper is a pit bull mix who found his forever home while he was a stray wondering a rural area of Bartlesville. Cooper learned his manners taking lots of obedience classes and some classes just for fun (agility, musical freestyle). He has earned his Canine Good Citizen award and considers himself a "pit bull ambassador." He has been a registered therapy dog since 2006. In 2009, he was cast in the movie "The Lamp" filmed in Tulsa with human co-stars including Lou Gossett, Jr. (a dog-lover himself!). But Cooper's true calling is being a therapy dog, and one of his favorite activities is listening to stories at the library. He shares his home with a cat and a rotating cast of foster dogs who are waiting to be adopted.
Captain Boo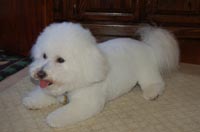 Captain Boo
Breed: Bichon Frise 
Library: Brookside Library
Human Helper:  Leon Mullis
Hi, my people named me Captain Boo when they picked me out in October 2006.  They said my black eyes and very white coat made me look like a ghost.  I don't shed so I am popular when allergies are a concern.  I have completed several training courses, therapy dog testing and have my American Kennel Club Good Citizen Certification.  Each month I visit different facilities such as hospitals, nursing homes, rehabilitation centers and libraries.  I look forward to meeting different children each month and enjoy the time they spend reading to me to improve their reading skills.
Chance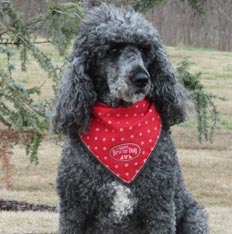 Chance
Breed: Standard Poodle
Library: South Broken Arrow
Human Helper:  Allen Pease
Actually Chance is a sweet little girl with kind of a guy's name.  We both took a "chance" with one another and it has worked out fine.  She also was selected to be a Tulsa County District Court dog so she is becoming a starlet in her own right. She won Top Dog at the Tulsa Dog Training Club for her obedience classes and also holds an AKC Canine Good Citizen certificate.   We do lots of therapy dog work at a variety of different locations and she certainly enjoys the children's reading programs in which we participate. 
Clancy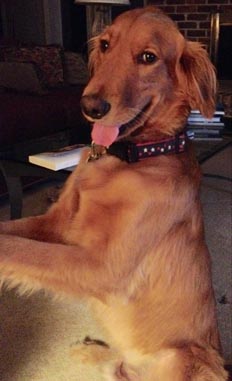 Clancy
Breed: Golden Retriever
Library: 
Human Helper: 
Clancy is a 4 year old Golden Retriever who was a rescue dog and is now a registered Therapy Dog with Therapy Dogs International and Karing K9's. He is also an AKC Canine Good Citizen who visits schools, hospitals, libraries, nursing homes and boys' homes because he loves EVERYONE! He is very affectionate and friendly and would rather be petted than eat! Clancy loves walks, playing, snug-gling and fetching…but more than anything, he loves people and is a very devoted member of his family, who fell in love with him immediately.
Fletcher:
Fletcher
Breed: Labradoodle
Library: Schusterman-Benson
Human Helper: Jacqueline Bowman
Minnie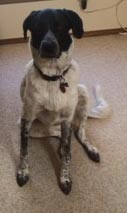 Minnie
Hi! My name is Minnie. I was rescued as a puppy from Tulsa Animal Welfare. I think one of my parents was a Great Pyrenees; that it why I look like a "mini-horse".  I love all children and love to read with them. I love to run and I can pull a sled and a cart and I just love to stay busy. My hobbies are watching for squirrels and laying with my daddy.
Ike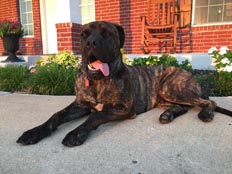 Ike
Breed: Bullmastiff
Human Helper: Laura Newberry
Ike was born in 2015 and was adopted by his family when he was just six weeks old. He lives on a small farm with 4 children, horses, goats, chickens, 2 livestock dogs, and a cat. Ike's favorite thing to do is be with his family: hiking in the woods, going to the feed store, hanging out at horse shows, or just playing around the farm. He has recently discovered a new passion as a therapy dog, listening to children read. Ike is a snuggler and loves to lay his head in your lap when you read to him. We hope to see you soon at the library!
Juneau
Juneau
Breed: Newfoundland
Library: Owasso and Collinsville
Human Helper: Kim Beasley
Juneau is a five-year-old Newfoundland. She is an AKC Canine Good Citizen, a registered therapy dog with Alliance of Therapy Dogs and a member of Karing K9s. She enjoys bringing love and joy to hospitals, nursing homes, schools, libraries and even the airport. Juneau loves her therapy visits, swimming, taking naps, and spending time with her family. Grab a book and come read to her at the Owasso or Collinsville Library!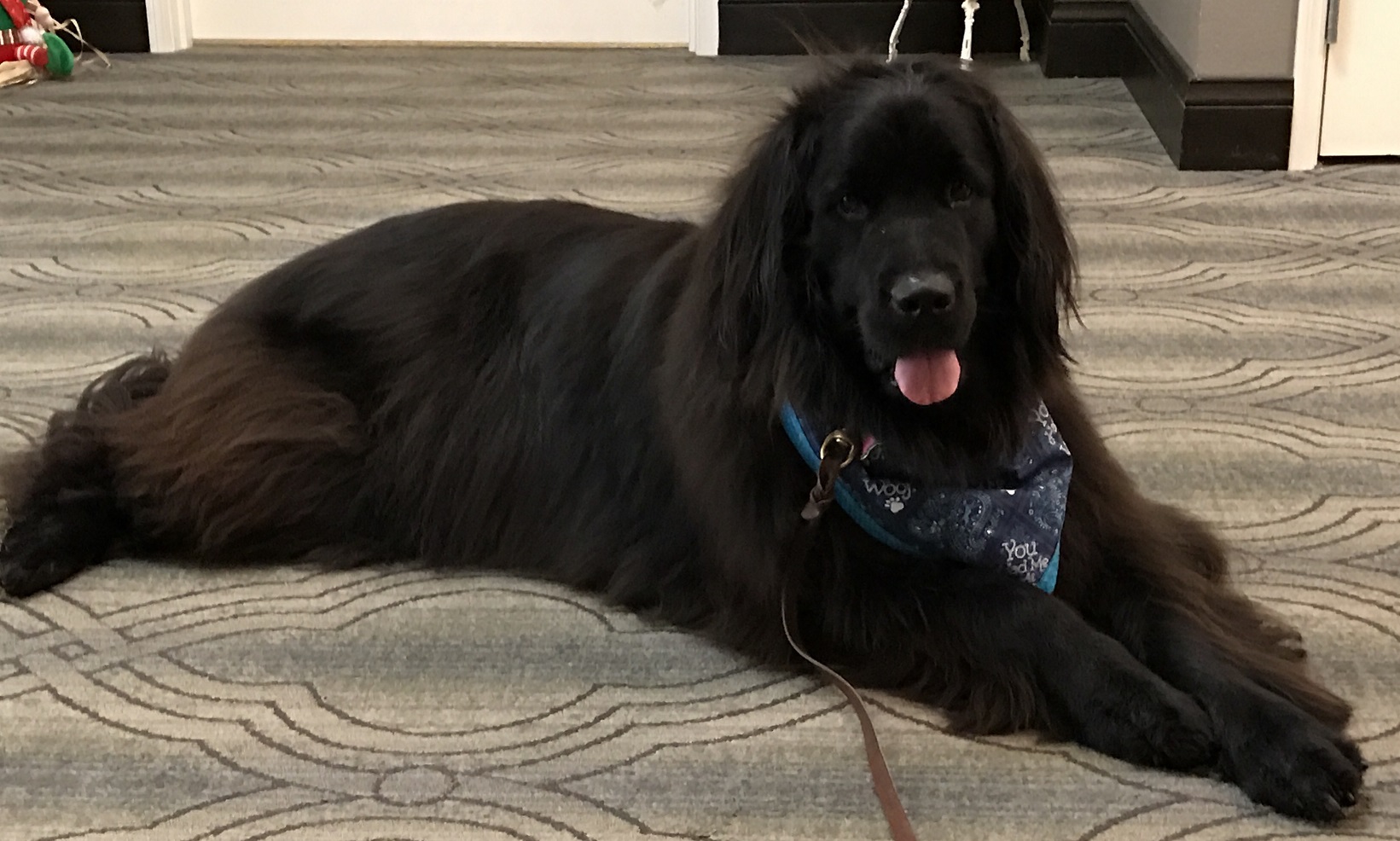 Kelty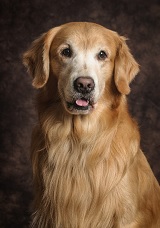 Kelty
Breed: Golden Retriever
Library: Schusterman Benson Library & Zarrow Regional Library
Human Helper:  Kay Burroughs 
Kelty is a 5 year old Golden Retriever. He loves kids and loves having stories read to him. Please come visit Kelty at the library
Merlin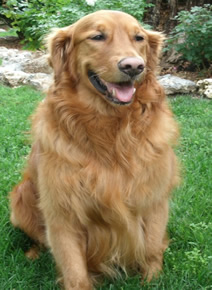 Merlin
Breed: Golden Retriever
Library: Herman and Kate Kaiser Library
Human Helper:  Nancy and Dustin Meyer
Hi, my name is Merlin. Please pet me. This is the expectation Merlin has as he enters the library, a senior home, a hospital or even a dog park. About 2 years old at the time, he rescued his family through Sooner Golden Retriever Rescue in March of 2010.  Since that time, he has beaten heartworms, earned his AKC Canine Good Citizen certificate and been registered as a therapy dog through Therapy Dogs Inc. in Cheyenne, WY. Merlin gives back to SGRR by assisting in making home inspection visits with his manservant/driver. His maid/secretary handles his appointments.
Murray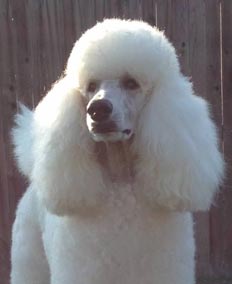 Murray
Breed: Standard Poodle
Human Helper: Kevin Hurst
Murray is a cream standard poodle who LOVES to visit other dog friends as well as people! Murray was born in 2012 and has learned his manners by taking obedience and agility classes. he has titles in rally obedience, agility, and has earned his Canine Good Citizen Advanced and Urban Certification. One of Murray's favorite activities is therapy work, where he gets to visit people in hospitals, nursing homes, rehabilitation facilities and libraries.
Nala
Nala
Breed: German Shepard 
Library: Broken Arrow
Human Helper: Debra Cox
I'm Nala, a 2 ½ year old female German Shepherd, adopted by my human from the Tulsa German Shepherd Rescue. My name means "successful" and I feel like I am! I have many jobs, but my favorite is doing therapy work with kids. I love to play with and comfort all the kids I meet, and although I might look like I'm sleeping when you read to me, I'm really listening with my eyes closed! Can't wait to meet you at the library for a good story!!
Rose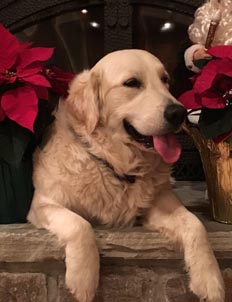 Rose
Breed: Golden Retriever
Library: Owasso Library
Human Helper: Terri Shoup
Rose is a 1-year-old Golden Retriever. She has her Canine Good Citizenship award and is a registered therapy dog with Karing K-9's and Alliance of Therapy Dogs. She likes to visit nursing homes and schools. Her favorite things to do are sleeping on her owners' bed and swimming at the lake. She likes it when people tell her she is a pretty dog!
Sam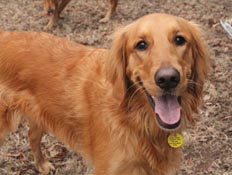 Sam
Breed: Golden Retriever 
Library:  Bixby Library
Human Helper: Krissy Rogers
Sam is a three-year-old golden retriever who is a registered therapy dog with Therapy Dogs International and a Canine Good Citizen.  Sam loves swimming, eating, and fetching frisbees, but his very favorite thing is snuggling!  Sam visits nursing homes, hospitals, and libraries on a regular basis and brings happiness to everyone he meets.  If you have a moment to spare, Sam would love to get to know you, cuddle, and read a story together!
Sonya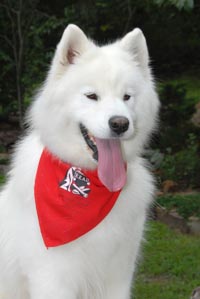 Sonya
Breed:  Samoyed
Library: Nathan Hale Library
Human Helper:  Sharon Wilson
Sonya has been a member of a therapy dog team since 2004. She is registered through Therapy Dogs Incorporated and R.E.A.D.  She loves her visits with the children at MacArthur Elementary School and Nathan Hale Library. Sonya's claim to fame is that she can dance! We perform at the nursing homes on her pet therapy visits. The residents think Sonya's dance moves are very funny and always join in with the fun!
Stitch & Boone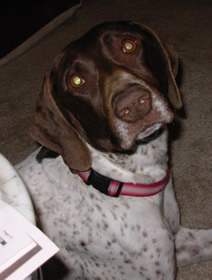 Stitch & Boone
Breed:  German Shorthaired Pointer
Library: Zarrow Regional Library
Human Helper:  Sally Harris
Stitch was an ARF (Animal Rescue Foundation) rescue. She was on TV in the Ask the Veterinarian segment with Dr. Welch. She was five years old ( born in 2003) and needed a home. She requires lots of exercise which is accomplished through ball retrieving and participating in agility competitions. Stitch loves having a job to do and is very calm listening to children read. Her nose will nudge their hands if they dare to stop petting her.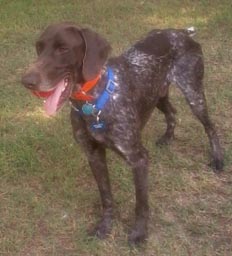 Taylor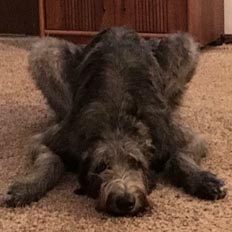 Taylor
Breed: Irish Wolfhound
Human Helper: Sally Loveland
Taylor is a sweet-natured, 17-month-old Irish Wolfhound who is just beginning her Therapy dog career. She has already happily visited hospitals and schools; and is looking forward to working with children in libraries too. She is still a puppy and far more energetic than she looks like in this picture.
Toots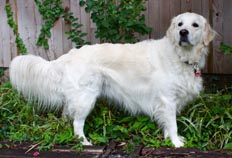 Toots
Breed: English Cream Golden Retriever
Library: South Broken Arrow
Human Helper: Patty Walker
Toots is a 4 year old English Cream Golden Retriever. She is obsessed with squirrels and loves going to the lake to hang out with her sister, Pearl, and all of her human and K9 relatives. She is a Canine Good Citizen, newly registered with Alliance of Therapy Dogs, and a member of Karing K9s. Her favorite things are being petted, belly rubs, and yoga! She really enjoys all of the love and attention she receives while on her visits to the assisted living facilities. She is so excited about her library visits, meeting all of the kids and listening to their stories.
Trixie
Trixie
Breed: Mixed: American Cattle Dog, Boxer, Greyhound
Human Helper: Kim Dorrough
Library: Owasso
Trixie says:
"My older sister is Minnie, who is also a PAWS dog. I love to lay around and also I love my sister Pixie. She and I love to howl! I enjoy watching programs with dogs on the television and playing with Minnie and all of my other friends."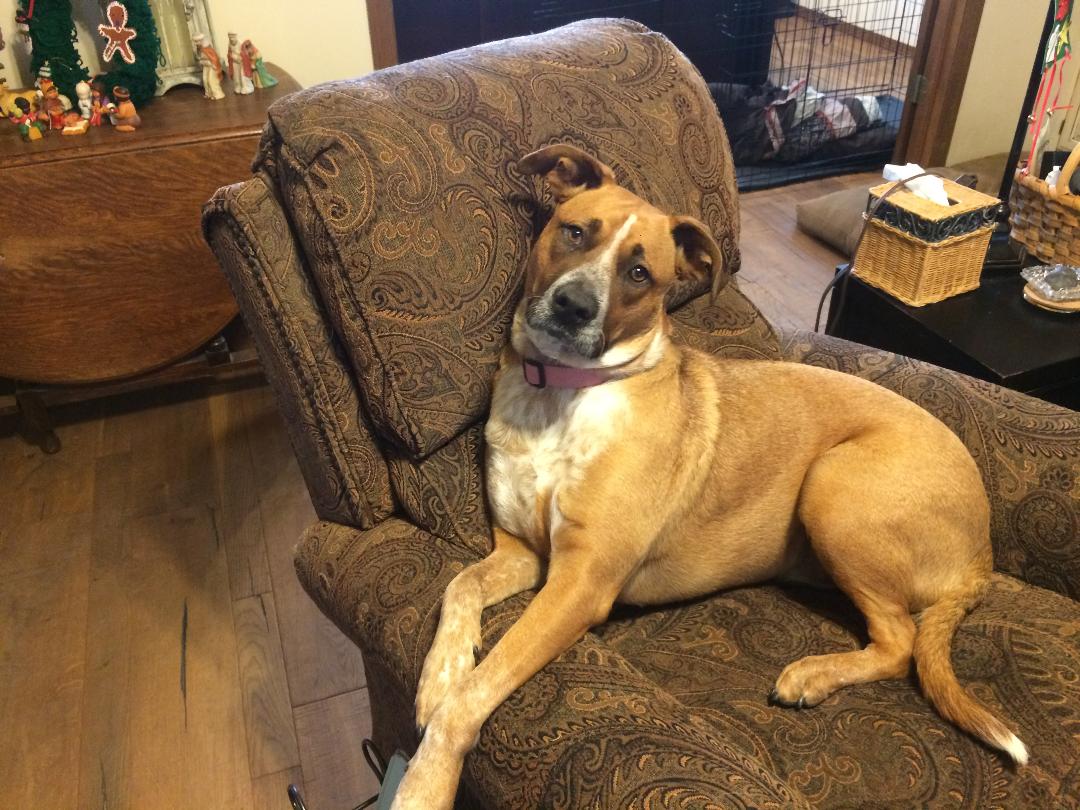 Tuffie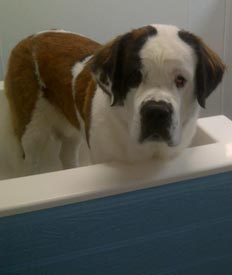 Tuffie
Breed: Saint Bernard
Library: Central and Zarrow Regional
Human Helper: Amy McCarthy
Tuffie is a sweet Saint Bernard girl with a loving personality. She is following in her brother Twister's footsteps, a natural therapy dog. She loves people, gets along well with other dogs, and enjoys time on the bed for popcorn and a movie.
Twister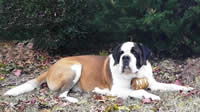 Twister
Breed: Saint Bernard
Library: Zarrow Regional Library
Human Helper: Amy McCarthy
Twister is a two year old male St. Bernard, who has followed in his "sisters" footsteps by achieving AKC Canine Good Citizen(CGC) status and being registered as a Therapy Dog with Therapy Dogs Incorporated out of Cheyenne, Wyoming. Definitely a lover, not a fighter, who thinks that he is a lap dog. He loves to snuggle and play with his sister Bella. He is presently working to get a Rally Novice Obedience title.
Zack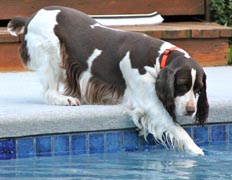 Zack
Breed: English Springer Spaniel
Library: Broken Arrow
Human Helper: Peggy Striegel